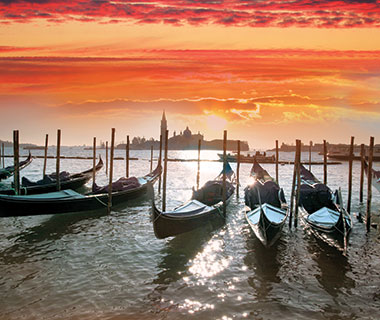 If you're planning a rare romantic getaway, but can't decide on where to escape to - take a look at these stunning cities for inspiration.
Florence
With its charming red-roofed buildings along the Arno surrounded by rolling hills, it's no wonder this Renaissance city leaves visitors love-struck. Art lovers fall for the city's classic architecture and masterful Michelangelos, while foodies adore the authentic Tuscan cuisine and jaunts to the Chianti countryside.
Honolulu
This tropical paradise has miles of sandy stretches, dramatic cliffs, balmy weather, and a lively dining and nightlife scene. Couples can snorkel the calm shores of Hanauma Bay Beach; hike to the top of Diamond Head Crater for stellar sea and Waikiki views; then hit the town for a date night of Pacific Rim cuisine.
Carmel, California
Storybook cottages, quaint shops, art galleries, and welcoming eateries in this quaint seaside village, make it one of northern California's most spectacular spots. Amble along the cypress-fringed path overlooking the rugged coast or cuddle on a bench and gaze out on the Pacific. Wine-tasting in nearby Carmel Valley, Pebble Beach's scenic 17-mile drive, and the redwood-laden road to Big Sur only boost the romance factor.
Quebec City, Canada
Set on the banks of the Saint Lawrence River, Quebec may be one of the oldest cities in North America. Take a stroll the historic quarter's narrow cobbled lanes, where centuries-old stone buildings house antique shops, museums, and cafés in an almost fairy-tale European-like setting.
Bruges, Belgium
Take a stroll around this fairy-tale inspired 13th century village and let the brick streets, brimming with cute boutiques and chocolate shops, take you in. Or share an umbrella down the Venice-like canals with arched footbridges leading to old windmills and Gothic churches.
Rome
Romance is undeniably a part of Rome's heritage, with its epic monuments, baroque churches, and medieval ruins. Few pleasures come close to grabbing a table for two by a millennia-old fountain, sipping a cappuccino, and soaking it all in.
Cape Town
Framed by the dramatic Table Mountain ridge and breathtaking seascapes, Cape Town is arguably South Africa's most beautiful city, where markets and colonial-era cottages meet the modern metropolis. You can wander the local art galleries or take a short drive through the rolling-hilled Winelands and get a flavour for the region's farm-to-table fare. Sun-seekers can also find a secluded spot on Camps Bay's white-sand beaches.
Paris
Walks along the Seine, tree-lined boulevards and cobbled lanes, a stop at the Musée Rodin, or a simple glass of red in a cosy bistro, all add to the romance factor in this city of love.
Venice
Venice's hidden bridges, cobblestoned alleyways, and iconic canals are perfect for getting lost in with a loved one. Stroll the palaces and piazzas, explore the ancient architecture, and while away the day in chic boutiques, art galleries, and canal-side cafés.
Image via Pinterest.