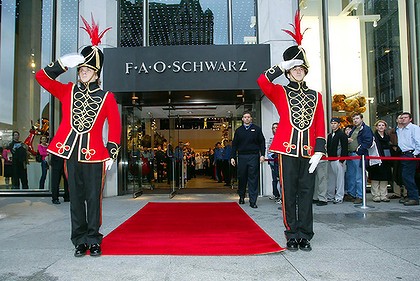 There is no more magical a place than a toy shop, and some are even more magnificent than others.
Here are some of the most iconic and wonderful toy shops from around the world.
Toy Joy, Texas (US)
This shop includes a glow-in-the-dark room filled with stars, moons, and animals as well as an undeniably odd line-up of trinkets and toys. Frida Kahlo temporary tattoos and zombie finger puppets are part of the weird and wonderful collection here.
Bartolucci, Rome (Italy)
Less than a five-minute walk from the Pantheon, you'll find a small shop watched over by one of Italy's most famous sons, Pinocchio. The Bartoluccis have been in the wood-carving business since 1936, when they opened an accordion factory in their native Emilia-Romagna. In 1981, Francesco began constructing marionettes. You can find his pine puppets, clocks, and figurines - hand-constructed with time-honoured tools like saws, chisels, and planers, here and at shops across Italy.
Schmancy Toys, Seattle (US)
Owner Kristen Rask has filled her downtown boutique with plush creations that are far from mere child's play. In addition to her own crocheted potted cacti, you'll find quirky pieces like dumpling magnets, kits for knitting one-inch-tall zombies, and Abbey Christine's hand-stitched felt finger puppets of Johnny Cash and a banjo-plucking Steve Martin.
Rotofugi Designer Toy Store & Gallery, Chicago (US)
Located in a historic flatiron building on Chicago's hip North Side, this boutique found its name from two different inspirations: the roto-casting technique used to mould the collectible vinyl figurines sold here and Fugi, the owners' beagle–shih tzu mix. Although the name is meant to sound vaguely Japanese, as a nod to the designers who popularised this aesthetic, local Chicago-based artists like Travis Lampe (Tear Drips) and Shawnimals (Ninjatown Zipper Charms) created many of the shop's designs.
Kiddy Land, Tokyo (Japan)
Reopened in 2012 after months of renovation, six-story Kiddy Land is filled with capsule boutiques celebrating Snoopy, Hello Kitty, and teddy-bear Rilakkuma. Look for the store's gashapon, or hand-cranked vending machine - they dispense small toys encased in plastic capsules, which often become collector's items.
AMI Marionettes Shop, Prague (Czech Republic)
Here you can watch stringed "actors" perform complete Mozart operas at the National Marionette Theatre. Skip the souvenir stands in tourist-clogged Old Town in favour of this gallery near Prague Castle, where you'll find artist-carved linden-wood originals and antique rarities from the early 20th century. Look for marionette versions of the Good Soldier Švejk, a beloved fictional World War I–era soldier.
F.A.O Schwarz, New York City (US)
Opened in 1862 by a German immigrant, America's oldest toy store moved to its current location across from the Plaza Hotel in 1986. While F.A.O. is known for its toy soldier doormen and the giant floor piano featured in the movie Big, it isn't stuck in Toyland's past. Recent additions include the Muppet Whatnot Workshop for creating your very own Muppet and the Ridemakerz shop, a whimsical garage where kids can customize model cars with high-tech additions like lights and sound effect.
The Doll Hospital, Lisbon (Portugal)
At Lisbon's Figueira Square, the world's oldest doll hospital traces its roots back to 1830, when an old lady began fixing broken toys brought to her by neighbourhood children. Surgeries now happen in an operating room upstairs, where skilled artisans reattach limbs, replace eyes, and stem the tide of receding hairlines, for patients ranging from Barbies and shabby teddy bears to priceless vintage porcelain dolls.
Sopa de Principe, Buenos Aries (Argentina)
From her humble shop in the trendy Palermo district, designer Verónica Longoni has elevated the rag doll to the status of art symbol. Her hand-stitched dolls, robots, and zoo animals, with quirky touches like button eyes and lopsided faces loosely inspired by writer-illustrator Edward Gorey, have been sold at New York's MOMA shops and featured in the 2013 thriller Mama. Longoni's Arma Mostro kit allows kids to channel their inner Dr. Frankensteins by mixing and matching different limbs to create a uniquely customisable monster.
Steiff Museum & Factory Outlet,Germany
Famous for high-end teddy bears with a trademark button-in-ear design, Steiff got its start when a polio-stricken seamstress named Margarete Steiff began crafting elephant-shaped pincushions in a southern German hamlet in the 1880s. To celebrate the 125th anniversary of Margarete's birth, Steiff opened a museum in her honour, complete with a life-size plush petting zoo, a collection of rare historic toys, and a fabrication demonstration centre - plus a factory outlet brimming with discounted products.
Image via Pinterest.