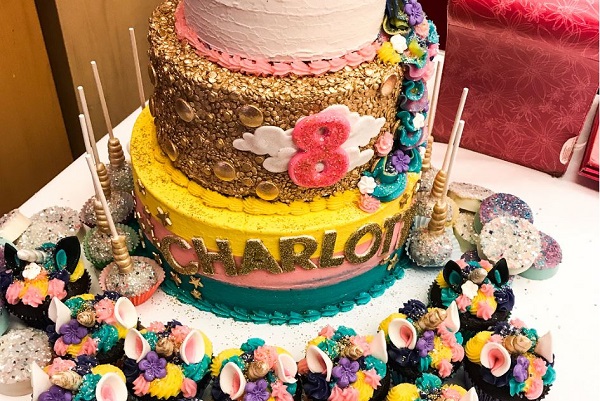 Sarah Michelle Geller has shared photos of her daughter's birthday cake, and the entire internet is drooling.
The actress posted numerous photos to her Instagram account after celebrating her daughter Charlotte's birthday.
Charlotte turned eight over the weekend, and she certainly celebrated in style.
The youngster had a giant three-tier unicorn birthday cake that was decorated with flowers and glitter. Her name was also spelled out in sparkly golden letters on the lower tier of the cake.
The ShowBoy Bakeshop is the company behind this grand creation. They said it was an honour to make such an extravagant cake for Charlotte, whom they described as a 'future Broadway star'.
They went on to praise Sarah Michelle and her family, "It's always such a treat to be with our friends, the Prinze family, and share moments like this! Happy Birthday."
Sarah, who is a mum-of-two, set up her own company, Foodstirs, in 2015. The company sells child-friendly baking kits. What is unique about this company, is the fact that the baking kits only contain organic and non-GMO ingredients.
The businesswoman recently revealed that her children are a lot like her husband, Freddie, in that they inherited their cheeky humour from their father.
She said, "When they're being naughty, they take after Freddie, obviously."
The Buffy the Vampire Slayer star says they all share a very close bond. One activity that has helped the family to grow closer together is baking, which is one of Sarah's biggest passions.
She revealed that they spend a lot of time creating tasty treats in the kitchen of their family home, in LA.
"I think, for my kids, it's been great to see - having an idea, starting from scratch, and actually making it into something tangible," said the mum.
Sarah admits that she is no cooking expert, unlike her husband Freddie whom she describes as a "culinary whiz".
"I can't cook like him. I'm never gonna try," said Sarah, who is the author of cookbook Stirring Up Fun with Food.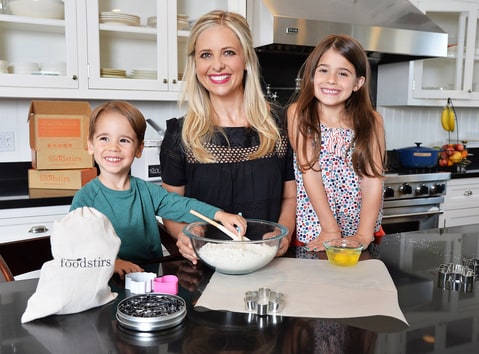 Sarah aims to inspire mums with her cookbook. She understands that cooking and baking can be intimidating, especially when you have children.
She wanted to show mums that cooking can be enjoyable, "The aim of the book is to get your creative juices flowing."
Sarah gave birth to her daughter Charlotte on September 19, 2009. The couple welcomed their son Rocky on September 21, 2012.
The siblings' birthday celebrations are only days apart, which means the famous family will be eating birthday cake for the foreseeable future!