This year for the first time, the flu vaccine is available free to children aged from two to 12 years.
To prevent hospitals from becoming overwhelmed as they cope with Covid-19 this winter, the Government has decided to give children most at risk of serious complications from the virus , a free flu vaccine. The flu vaccine has been safely given to children in countries such as the UK and the USA for many years and Ireland is now following suit.
With the end of the level 5 lockdown in sight, doctors are urging parents to get their children protected now from the flu virus. Since the flu virus is mainly spread through coughing and sneezing, transmission rates will naturally increase when our community contacts increase at the end of the heightened restrictions.
Here's everything you need to know about this year's flu vaccine:
Where can my child get the flu vaccine?
From now to the end of December, your child can get the flu vaccine for free at your GPs or from your local pharmacy. You must book this in advance over the phone.
How is the vaccine given?
The vaccine is given to children through a nasal spray. The administrator will spray a single spray in each nostril. Your child will be able to breathe normally while getting the vaccine. There will be no need for them to take a deep breath or sniff. The vaccine is not painful and is absorbed quickly. It will still work, even if your child has a runny nose, sneezes or blows their nose afterwards.
What is in the vaccine?
Who should NOT get the nasal flu vaccine?
Your child should not get the vaccine if they:
have ever had a severe allergic reaction to the flu vaccine or any of its ingredients before
have severe asthma or if they have been wheezy or needed their inhaler more than usual in the 3 days before the vaccination
are taking medicines called salicylates, which include aspirin
have a severely weakened immune system
If you have any concerns about your child's suitability for the flu vaccine, you should speak with your GP before booking your appointment.
You should postpone your child's flu vaccine if they are not feeling well and have a high temperature. You should also reschedule if your child has a very runny or blocked nose on the day.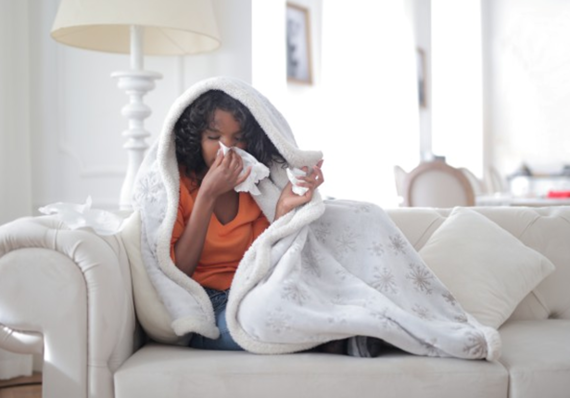 Are there any side effects?
Your child may experience some mild symptoms after getting the nasal flu vaccine such as :
a runny or blocked nose
headache
muscle aches
a temperature - this usually goes away on its own or can be treated with paracetamol or ibuprofen.
Serious side effects such as a severe allergic reaction are rare. There is no evidence that you can catch flu from the flu vaccine .
There will always be possible side effects when it comes to medicating or vaccinating our children. However, it is important to remember that the flu can be extremely dangerous, especially for children, and the benefits of vaccination strongly outweigh these.
What can happen if my child gets the flu?
Influenza - known as the flu – is a highly contagious illness caused by the flu virus. In fact, children are twice as likely to get the flu than adults and have a much higher chance of experiencing severe complications.
If your child gets the flu, it is likely that they will have mild symptoms. But every year some children experience serious complications such as pneumonia, bronchitis, or in rare cases inflammation of the brain. Children with these complications may need hospital treatment or intensive care. Some of the more common symptoms of the flu include:
muscle aches
headaches
weakness
high temperature
cough
sore throat
runny nose
problems sleeping
loss of appetite
diarrhoea
tummy ache
vomiting
In February 2018, Aralynn O'Hare caught the flu. She was four years old at the time and according to her mum, "a picture of health." Within 48 hours, she was in the paediatric intensive care unit (PICU) in Crumlin Hospital. Mum, Nora O'Hare recounts her daughter Aralynn's life-threatening experience with the flu, and tells
TheJournal.ie
why she's urging other parents to take advantage of the free vaccine.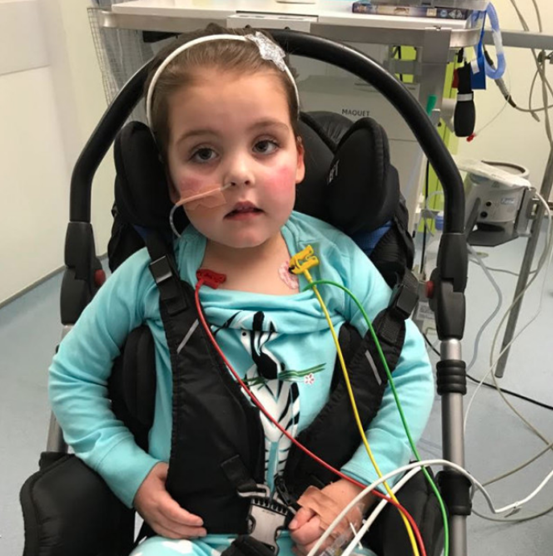 Source: Adrian O'Hare
The HSE has reported that in the last 10 years, almost 5000 children were admitted to hospital with complications of flu. Almost 200 children were admitted to intensive care for treatment and 40 children died.
In response to unreliable information being circulated by so called 'anti-vaxers', the HSE advises that "online content can contain misinformation that is completely false, not fully accurate or not supported by experts". This is why it is important to talk to your GP or pharmacist, who will answer any questions you may have about getting the children's flu vaccine.