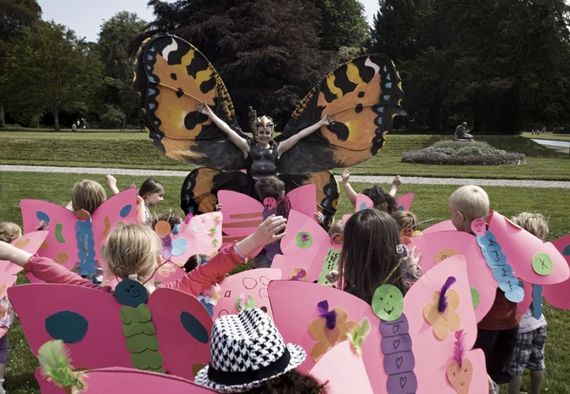 This summer on Saturday the 15th and Sunday 16th of June 2013 Killruddery house and gardens will play host to The enchanted garden festival, a magical extravaganza of imagination and creativity that's a great weekend out for families and friends, giving kids the chance to enter a world of imagination through engaging family fun and performance theatre.
There's a lot to do at 'The enchanted garden' festival making it the perfect day out for the whole family.
This year, Killruddery Arts will establish an artists in residence programme linked to the festival and they have asked a team of artists to take up residence for a week in the grounds of the historic house and gardens, providing a rich environment in which to find inspiration to create new work that appeals to children. Among those participating are visual artists Roisin Coyle, Anne French and Sophie Loscher, interactive installation artist, Niamh O'Doherty and children's music creators, Nico and Martin.
Irish Theatre Company, Monkeyshine, and Theatre Papilio from Germany will also be taking up camp for a week at Killruddery where, using foraged materials and the incredible natural beauty of Killruddery Gardens, they will build a magical tent in the woods, a home from home, which they will use to develop their new show, Story Weavers.
Once the theatre groups have weaved a storytelling framework, kids can show the creative experts what real imagination is!
Kids will get to go on foraging excursions and will be asked to bring their treasures back to the storytelling tent where they will work with the artists to create stories, songs and characters of their own.
Kids will also get to interact with art installations and music in the garden and they can also make their own props in the craft tents located in the garden.
The Enchanted Garden, a family arts festival is the perfect opportunity to immerse your child in the world of arts and theatre for the weekend.
Refreshments will be available from the Killruddery Tearoom throughout the festival and visitors are also welcome to bring a picnic along. On Saturday, 15th June 2013, Killruddery Farm Market will be on in the Horseyard, with lots of lovely food stalls so the whole family can stock up on picnic goodies for the weekend!
Tickets for The Enchanted Garden, a family arts festival, can be purchased from the Killruddery website at www.killruddery.com or call 01 2863405. They may also be bought in advance of the Festival by calling into the Killruddery Box Office.
Weekend Family Ticket €45 (1 Adult and 3 Children or 2 Adults and 2 Children),
One Day Ticket €30 (1 Adult and 3 Children or 2 Adults and 2 Children),
One Day Individual Tickets Adult/Child €6.50 / €10,
Under 2's go free