The first six months with a newborn can feel like a blur. You're elated and ecstatic to finally have your tiny human home and simultaneously exhausted and a little stressed and learning all the time about them.
And on thing that it's really important to learn is all the developmental milestones that babies usually hit within their first six months. You're baby is learning so much within this time that it can often feel like they change and grow overnight. And you're a huge part of that learning process. Here are some things you can do according to Children and Young People's health services Norfolk to help your child along with their development the first six months of their lives.
Gross motor skills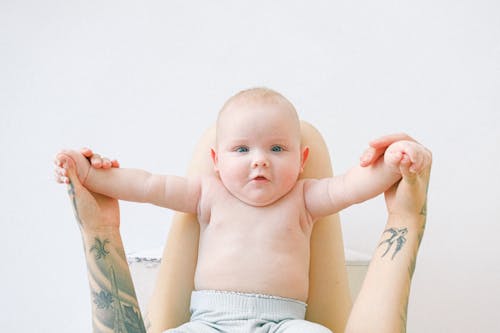 This is your baby's overall body movements. Doing some of these exercises helps them to build and develop muscles and skills that will enable them to do all the basics in the future: crawling, walking, catching pushing etc.
By letting them lie on their backs, they can wave their arms and legs, helping them to build up those muscle groups.
Tummy time – having them lie on their stomach – is a great daytime option, even if it takes babies a while to assimilate to. Try to be within their line of sight when doing this so they know you're there. This position should be avoided at nighttime when baby is going to sleep – infants should only ever sleep on their backs.
Place toys slightly out of their reach so they stretch for them or even roll towards them.
Sit them in the 'V' of your legs to help them develop core muscles that will allow them to sit and support themselves.
'Always be led by your baby - they will let you know when they have had enough and need a change!'
Fine motor skills
These are the smaller, more detailed motions that we all learn as we grow. They are a large part of their coordination skills and affects their ability to control the things they hold.
'Touching, stroking and showing them their hands and arms helps them begin to get the idea. Your baby will be fascinated and enjoy watching their hands as they realise they are a part of them and that they can use them to reach and hold things.'
By lying down near baby, you can allow them to reach for you, and hold other items like toys and books close so they can become familiar with the movement of touching things.
Offer them things they can grab like rattles and toys that are safe for them. This movement will start with them grabbing things with their fists and slowly develop into smaller movements like pinching things between their fingers. It takes time and will develop slowly, so be patient.
Problem solving skills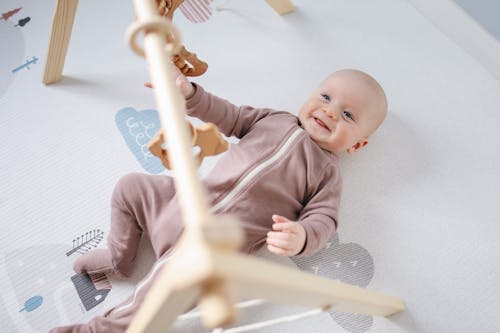 Your baby will slowly begin to piece the world around them together as their brain and social skills develop and you and your routine play a key part in that. Problem solving skills sounds complex, but it's more just about them noticing patterns and developing and understanding of the world.
By experiencing, hearing and seeing new things that are incorporated into their routine, babies will slowly begin to remember them and see the repetition, realising that one action can lead on to another. Try to keep routines relatively the same, like shaking a bottle before a feed, changing them in the same place, singing a certain song before or after a bath.
'Play peek a boo (nice and gently for little ones). They will start to learn that you are still there and love it when they can see your smiley face on the 'boo'.'
Personal and social development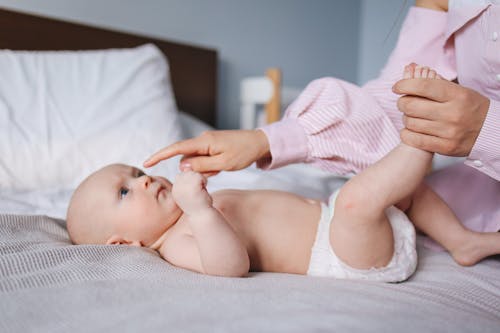 Personal and social development is your baby learning about who they are. Even though it may seem like they're very young for this, it's an important developmental stage for them. By engaging with their emotions, we build relationships with them and teach them social skills.
What you say and do an dhow you react to your baby's emotions are a big part of this. Acknowledging them lets them know they are important and builds their self esteem and value.
Talk with them about the feelings they are experiencing – when their face crumples, when they laugh, when they cry or get a surprise. They see that you care and prioritise how they are feeling.
Remember that every child is different and will develop differently and will experience things at different rates to other children, so try not to compare.
Try to tune into what baby is feeling – trust your instincts here, like when you can feel they want to be back in your arms.
Check out Children and Young People's health services Norfolk for more information!