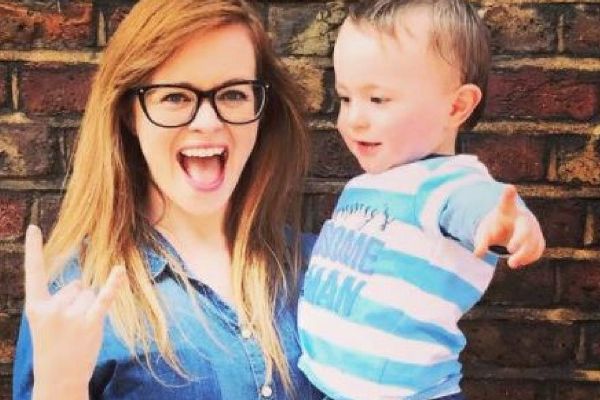 Parenting can be difficult from time to time, particularly in your child's first few years of life. And there's nothing worse than the fear and worry that your parenting skills are being judged or experiencing "mum-shaming".
Mum Riona O'Connor from Kerry can definitely sympathise. The hilarious mum has created her own parody of the popular Rag 'N' Bone Man song Human, to illustrate that mums are only human too.
In the video, Riona and her adorable toddler son depict the daily antics of life with a young child, and the results are hilarious.
She lets her toddler cover her in clothes pegs, wipes up poo, and can't get a minute for a bathroom break…yep, we've all been there!
Riona isn't afraid to draw attention to her own insecurities in the video, showing off her C-section scar and grabbing her "mum tum" as she sings, "Don't put the shame on me."
"Raising a human, free time is gone," Riona laments as she sits down with a cup of tea, only for the baby monitor to start flashing.
"I let him watch TV - thank God for Hey Duggee," Riona sings as she plonks baked beans down before her little one in his highchair.
If there's one thing us mums are thankful for, it's those TV shows that keep the kids happy and entertained for even a short period of time.
Riona extolls the merits of wine, enjoys a trip as far as her local Tesco, and deals with the dilemma of where to stash a used nappy.
She also visits another mum's house which is sparkling clean, before going home to lie in a pile of Lego with her son.
"I live on carbs, coffee and cake," she cheerfully admits, before telling us that she too "makes mistakes" as she deals with her son crying.
Riona has some very sage advice for those judge mums, "Watch some Louis Theroux or take up a hobby!"
She wrote alongside the video, which was posted to her Facebook page: "A Rag'N'Bone Man parenting parody for the mum-shamed, thong-fearing, mess-embracing humans who happen to be parents."
Her video has now clocked up almost four million views - we're guessing a lot of those are from mums who can relate to her life.
What do you think of the video, mums? We hope it put a smile on your face today!