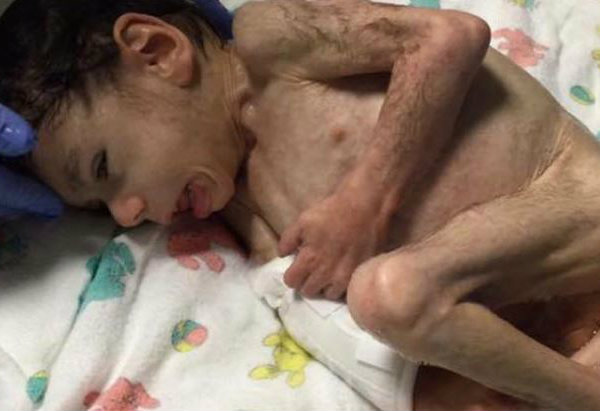 *Warning: some users may find these images distressing
Despite having seen photos of the little boy before her departure, when Priscilla Morse travelled from her home in the US to Bulgaria to adopt a baby boy, she was totally unprepared for the sight she was met with.
The boy, Ryan, was then aged seven - but weighing just 3.6kg (8lbs) he had the body of a newborn.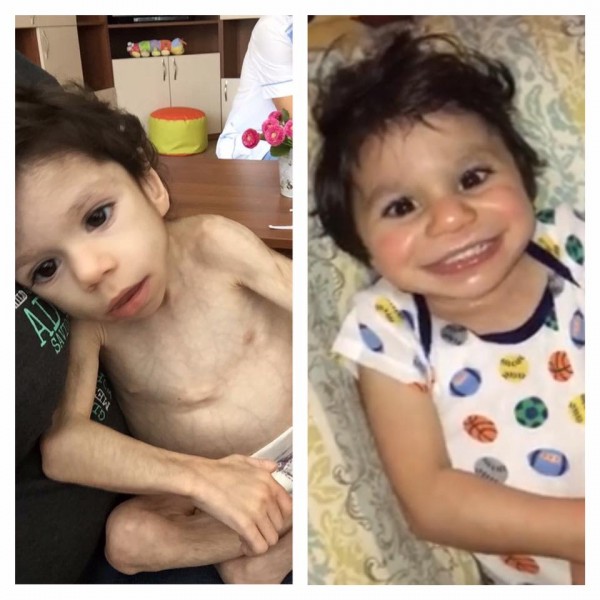 "He weighed the same at age seven as he did at birth," the Nashville-based mother of four explained on her Facebook page, Saving Baby Ryan.
"He wasn't much longer than he was at birth either, a mere 26in (66cm) long. When you are neglected, your body stops producing human growth hormones, and you end up with stunted growth. In the medical community it's known as institutional dwarfism."
Arriving back in the US, she was told to prepare for the worst: "When we arrived back in the States with this tiny, emaciated child we went directly from the airport to the hospital.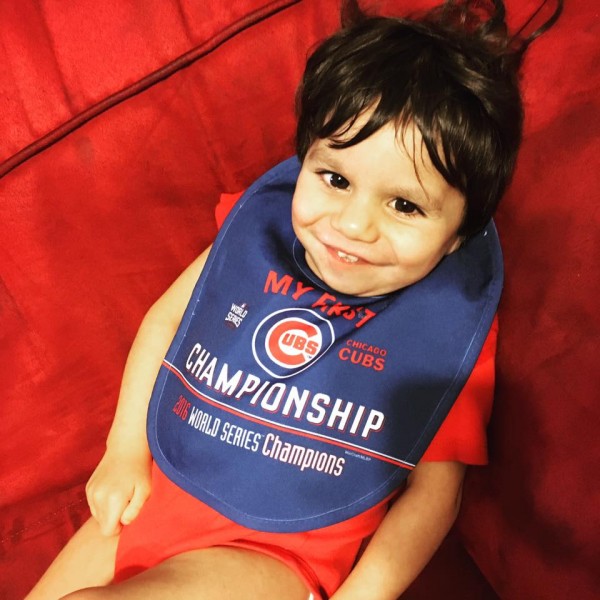 "I think I had somehow guarded my heart against just how life and death my son's situation was until the moment I saw a doctor look at him and burst into tears. I was gently told that they would do everything they could, but to prepare myself for him to pass away.
"We basically lived in that hospital on and off for months... but slowly we started to see improvements."
Indeed, in the year since Priscilla adopted Ryan along with her husband David, sons 13-year-old Dylan and seven-year-old Jack, and daughter McKenzie, also seven - Ryan has thrived.
And his transformation is a testament to the love and nurture that the entire Morse family has showered on him.
Still, the last 12 months have not been without struggle.
As Priscilla furthermore explained on a GoFundMe page set up recently to support Ryan's ongoing medical treatments: "Looking back on the first pictures we took of him, I can't even begin to understand how he survived. He was all bones, his joints would pop and crack when we tried to dress him.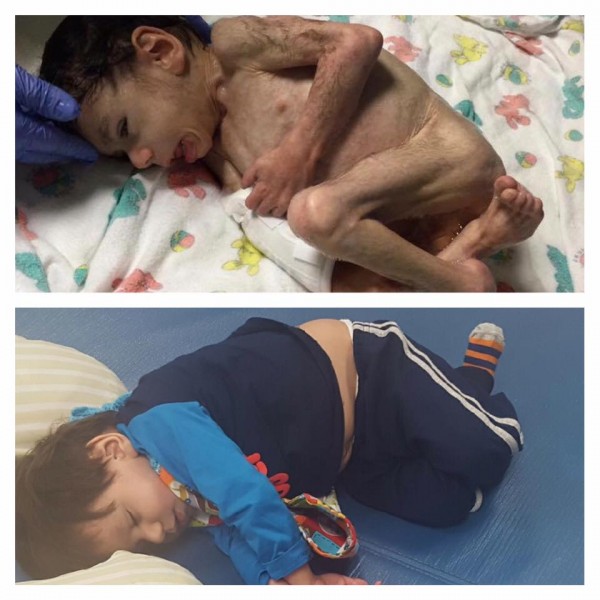 "He was starved for so long that his body couldn't process food, he was admitted to the hospital for weeks and diagnosed with refeeding syndrome, a syndrome that was discovered after the Holocaust, when concentration camp survivors were liberated, and began dying because the sudden availability of food shocked their system and killed them.
"This is what our son had, hearing his time in the orphanage being compared to the suffering experienced in concentration camps was not easy to process. Ryan was given a feeding tube, and after a lot of bumps in the road, he began to grow."


Today, the happy little boy is currently 8.6kg (19lbs) and 78cm (31in) long, meaning he has doubled his weight and grown 5ins in less than a year.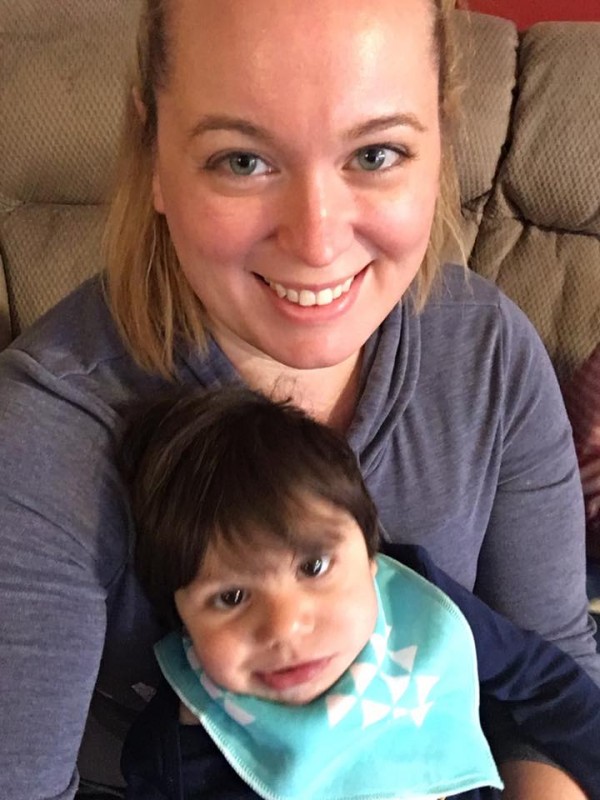 Incredibly, and although he uses a wheelchair to help with mobility, he is attending school and is learning to communicate via adaptive equipment.
"He is a strong, capable little boy who brings a smile to the face of everyone who knows him!" Priscilla gushed online.
Recently, the Morse family asked the Make-A-Wish charity to convert their carport into a sensory room for him, because he is too medically fragile for a trip to the likes of Walt Disney World.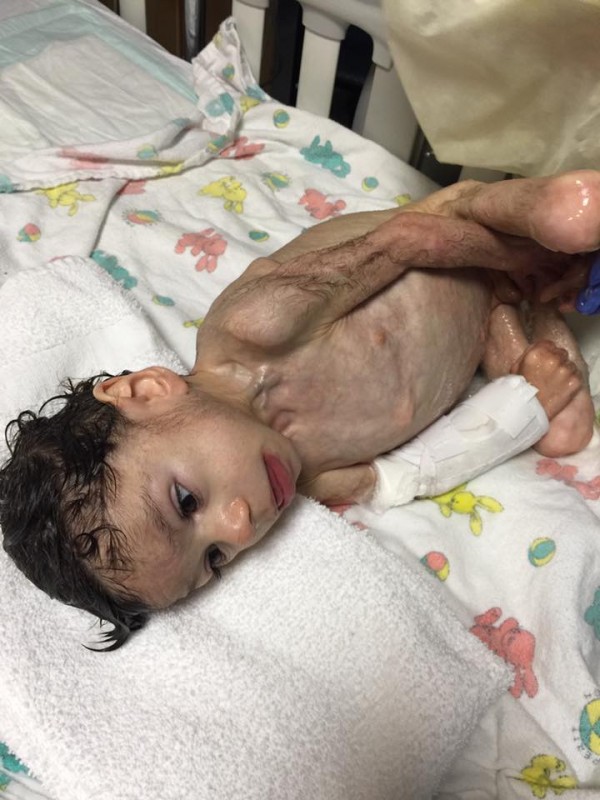 "This would have been the best possible wish for him, something he could use for years and something that could be a learning tool for him as well," his mum explained.
"Unfortunately, Make-A-Wish isn't allowed to grant wishes that include construction, so we had to think outside the box a little, and with the help of an amazing wish granter we settled on a shopping trip that would allow Ryan to get all the equipment and furniture and things for his sensory room."
However, Priscilla added that the only catch was they have to build the room themselves - highlighting that with two children with special needs (they adopted McKenzie from Russia in 2012; she has Down's syndrome and a congenital heart defect) not to mention medical bills, "you just don't have thousands of dollars available for construction projects".
The GoFundMe page has now garnered significant attention - raising $7,000 of their $10,000 goal as the inspiring story of Ryan spread around the world.


"I love to make crafts so we are planning to have a craft sale/auction to raise some funds for Ryan's room," Priscilla continued. "It is a big undertaking but so worth it to provide him with a space where he can reach his full potential."
Ryan now faces spinal surgery as his ongoing medical issues are addressed, but as Priscilla concluded: "Now, instead of working to save his life, we're working to give him the quality of life every kid deserves."