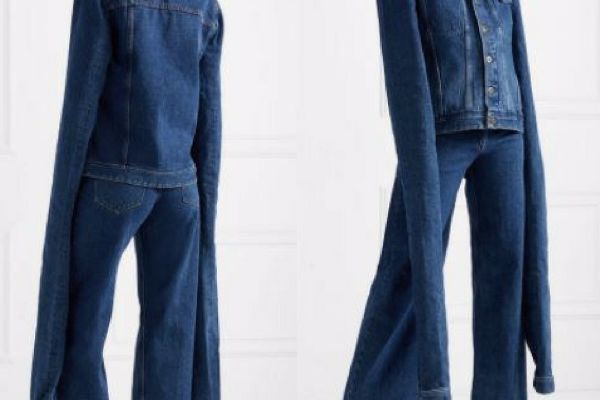 We're pretty used to seeing bizarre haute couture outfits grace the runways every season but many of these never even go on sale.
However, an everyday item of clothing, the humble denim jacket, caused fashionistas to stop dead in their tracks when it appeared for sale on Net-a-Porter.com.
But this is no ordinary run-of-the-mill denim jacket, oh no, it features extra-long arms, more suited to a giraffe than a person!
The jacket is the brainchild of the label Y/Project who also created buttless jeans and jeans with detachable legs, so we really shouldn't be surprised.
If you have super long arms or wish to hide your hands from public view, then the jacket can be yours for a bargain price of £450.
Net a porter giving the people what they want pic.twitter.com/kY7Dwx9m9J

— Kate (@katelavie) September 1, 2017
The product description reads as follows: "Y/Project's denim jacket is designed with dramatic long sleeves – the brand's exaggerated silhouettes are favoured by style influencers like Chloë Sevigny and Gigi Hadid.
Hmm, we've never seen Gigi tripping over the sleeves of her denim jacket yet…
"Wear yours with the arms pushed up, letting the cuffs of a crisp white shirt peek through", the description advises.
Or you could flail around, sweeping everything and everyone in your path out of the way….
Needless to say, people aren't queuing up to buy the jacket but it is causing social media mayhem.
September 1, 2017
The couture creation has produced numerous gifs and hilarious reactions online.
"Net-a-Porter giving the people what they want", one bemused Twitter user wrote. "Omg finally", another responded.
"Thin people are wild. How about we start focusing on plus fashion cos you have run out of ideas?" another woman wrote.

For those of us whose arms don't extend as far as our knees, this jacket would be more than a bit impractical.
What do you think of this crazy creation mums?