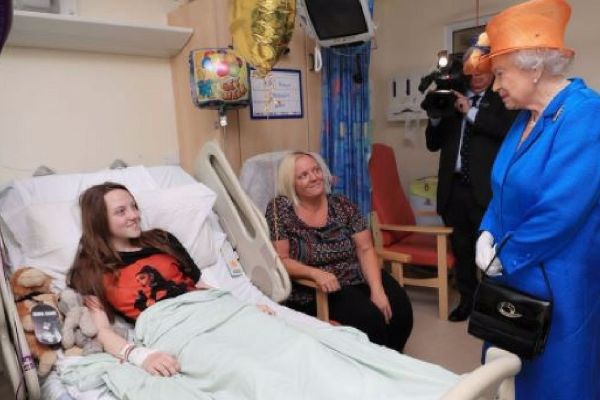 The Queen has been visiting some of the young victims of the Manchester attack in hospital and lending them her support.
She spent some time with three young girls who were hurt in the blast and heard their heartbreaking stories of how their wonderful night was destroyed by the callous bomber.
She visited Millie Robson, 15, Evie Mills, 14, and Amy Barlow, 12, who suffered injuries during the blast. The young girls are receiving treatment at the Royal Manchester Children's Hospital, according to The Mail Online.
Visiting young Amy and her mum Kathy, she gave the girl her best wishes saying: "I hope it won't take too long for you to mend."
The Queen condemned the awful actions of the bomber during her visit, speaking to the family of Evie Mills: "It's dreadful. Very wicked. To target that sort of thing."
The Queen speaks to Millie Robson, aged 15, from County Durham, and her mum, Marie at Royal Manchester Children's Hospital. pic.twitter.com/9yJem1gt88

— The Royal Family (@RoyalFamily) May 25, 2017
Evie told the monarch of how she had been given the concert tickets for her birthday and the Queen replied saying she'd heard Ariana Grande was "a very good singer."
She listened as young fan Millie Robson explained how her amazing night out turned to tragedy. Millie told the Queen how she had met the pop star backstage before the event after winning VIP passes in a competition.
After the concert, she headed to the arena exit to meet her father, David when the bomb was detonated. The Queen responded to Millie's father commenting: "It's not something you expect at all" and described the attack as 'very alarming'.
Courageous young Millie and her friend Laura Anderson used their handbags and jumpers as makeshift tourniquets to stem the bleeding from injuries to Millie's legs after the explosion.
The selfless teens directed paramedics past them to victims who they believed were more seriously hurt.
Today The Queen is visiting Royal Manchester Children's Hospital to meet some of the victims of this week's attack in the city. pic.twitter.com/VgvGA5WzUb

— The Royal Family (@RoyalFamily) May 25, 2017
Millie described meeting the Queen as "surreal" following the royal visit.
The monarch also visited hospital staff and paramedics to shake hands with them and thank them for their selfless efforts in saving lives following the blast.
She expressed her sadness and shock at the tragedy while chatting to staff, saying: "The awful thing was that everyone was so young. The age of them."
14 children remain in hospital following the blast, with five of those in critical care. 75 people were admitted to hospital after bomber Salman Abedi, 22, detonated a homemade nail bomb in the foyer of the Manchester Arena.
The youngest victim Saffie Rose Roussos was just eight years old.