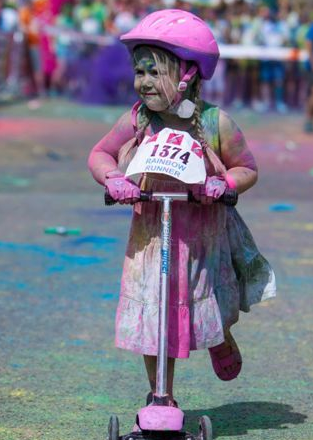 If you are looking for a family event with a difference, the Rainbow Run is for you.
Taking place on Sunday, 22nd June 2014, the Rainbow Run involves
runners of all abilities and ages being doused from head to toe with coloured powder paint while they sprint, jog or walk the scenic 5km route on Dun Laoghaire's west pier.
T
o encourage more families to get involved, kids aged seven years and younger accompanied by an adult can run for free.
The run is entirely focused on fun so there is no competitive atmosphere, no recorded times and no age restrictions, all that matters is that you enjoy yourself and finish covered in loads of colour.
At intervals thorughout the run, participants will be
bombarded with different colours until they cross the finish line covered in a kaleidoscope of pinks, blues, greens, yellows, purples and reds. The powder used is a non-toxic and natural corn-starch based product that will not stain your hair or cause damage to anybody.
To motivate you over the finish line, 80s super-group Spring Break will be performing everyone's favourite hits as you cross the finish line and during the large colour bomb that will occur in the finish area!
The Rainbow Run starts at 3pm in Dun Laoghaire on the west pier, but in order to receive your
running packs you have to be registered by 1.30pm.
To register for the event, click
here
.
Proceeds will be going to Dublin Simon Community, providing services to people in Dublin, Kildare and Wicklow who are homeless or at risk of homelessness.