The UCD Festival is back for its third year on Saturday, 9 June 2018, with a jam-packed schedule of multidisciplinary events against the backdrop of a festival atmosphere on the Belfield campus, including an international food fair and a host of family fun activities.
People of all ages are invited to register for tickets to experience this unique festival of creativity, innovation and discovery.
The UCD Festival has become the University's flagship public engagement event and is unique among Irish third level institutions.
The festival is a free event where the wider UCD community and the public is invited for a wonderful day of events, fascinating talks, interactive science exhibitions and modern technologies, creative workshops and live performances.
The one-day event highlights the innovation, creativity and research that happens on campus, and there will plenty to choose from in a day of hands-on fun.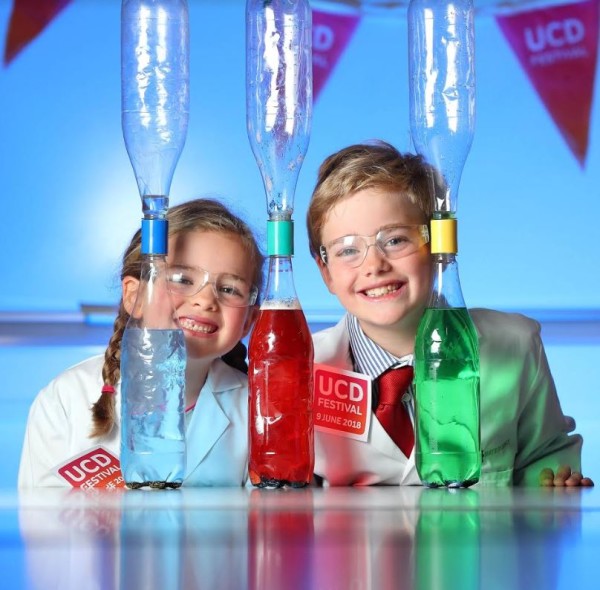 Highlights from six festival zones and over 100 events, include:
Fast forward into the future as you encounter interactive technologies and artificial intelligence at the Science and Innovation Zone, sponsored by Intel Ireland
Jump into the Family Fun zone were UCD Sport and Fitness Centre will host a range of high octane activities for the whole family to enjoy. There will be tennis coaching, rugby and GAA mini-drills at the sports zone and the hugely popular Festival Train makes a return.
Immerse yourself in one of Ireland's richest cultures by visiting UCD's Folklore Collection, recognised as one of Europe's largest archives of oral tradition and cultural history, which was inscribed in 2017 to the UNESCO Memory of the World Register.
Embrace the world of imagination - children can bring their favourite teddy along to UCD Festival and receive a one-to-one interactive session with a 'healthcare professional'!
Get close to the latest advances in innovation and technology at the Engineering and Technology Zone, sponsored by Microsoft with an inspiring, interactive programme of events. Highlights include the VR cave, the drone cage, 3D printing and creative design challenges such as 'build your own catapult'!
Get creative with the kids in the Inspiration zone, where free play for little ones is encouraged or try build a robot with programmable LEGO® Education systems. Have tonnes of fun exploring mechanics, engineering and much more through the use of LEGO® Education.
This year's festival is kindly sponsored by Intel, Microsoft, Dun Laoghaire Rathdown County Council, UCD Sport and Fitness.
*Important Note re registering - The UCD Festival is free to attend but we recommend that you register in advance for any events you wish to attend. All access on 9 June is first come, first served, but by indicating your preferences now we can better manage events on the day. You can register your interest at www.ucd.ie/festival.