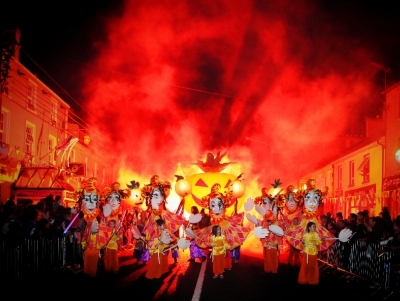 This year's Virginia Pumpkin Festival Events in Cavan start on Friday evening 25th October with a Haunted Forest Walk through the naturally spooky Deerpark woods which is transformed into a thrill of scary scenes, complete with ghosts, ghouls, and all sorts of creatures that slither and groan.
When the crowds stop shaking in their boots the adults can enjoy the first ever Pumpkin Party Night with three DJ's from iRadio rocking the Festival Dome.
The events continue all day Saturday 26th October with a variety of activities for all ages that include a Charity Fun Run through Deerpark Woods; Children's Fancy Dress Party; Artisan Food & Craft Fair; The Gathering at Virginia College/Virginia Vocational School: An all day programme of sporting and fun events to celebrate 50 years of the school is planned with a special Gathering for all who attended the School from 1963 to 2013.
On Sunday 27th October the town of Virginia, Co. Cavan closes down to traffic and the streets are transformed into a carnival atmosphere. There is lots of activities to keep every age group happy all day from: Lawn Mower Races; Skittles Competitions; Mini Fleadh Ceoil; Vintage Cars and Tractors; Dancing on the Street; a Tug of Love; Treasure Hunt; Street Theatre; Puppet Theatre; Live music on the Street and the increasingly popular Artisan Food and Craft Fair.
As the sun goes down the town takes on an electric feel in anticipation of the Grand Carnival Parade that snakes its way around the town and includes local school children. After an hour of spectacular street performances that includes aerial performers, Brazilian beats and exotic dancers, the thousands of spectators will follow the parade to the lake shore to witness a Spectacular Fireworks Display on the shores of Lough Ramor. As the colour of the street carnival fades the colour and vibrancy of Ireland's Largest Fancy Dress Party once again illuminates the streets of Virginia with over 2,000 fancy dress revellers packing the Pumpkin Dome and at least as many taking to the streets of the town to show off their unusual and amusing costumes.
On Monday 28th October the Pumpkin Dome is once again a party zone; this night is for the teenagers with Ali B pumping out the music at the first ever Virginia Pumpkin Festival Junior Disco
On Tuesday 29th October you can try their luck at Bingo in the Pumpkin Dome
Closing the 2013 Virginia Pumpkin Festival on Wednesday 30th and Thursday 31st October at the Ramor Theatre.
Dates: 25th – 29th October