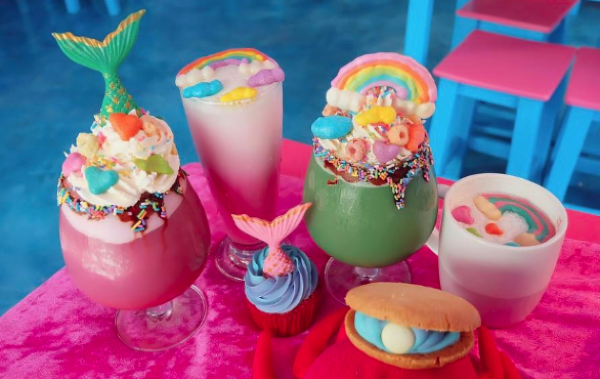 We can all admit that we fell in love with mermaids when we first watched Ariel swimming around with Sebastian under the sea.
The Little Mermaid inspired many Halloween and fancy dress costumes, but since then, a mermaid has taken on a new iridescent lease of life.
With pretty hues of pink and purple, we all go wild for anything with 'mermaid' in front of it now; mermaid lattes, mermaid shimmer, and even mermaid toast.
You'd think we had enough of it by now, right? Well, not so, because we are currently freaking out about this mermaid cafe in Thailand.
The Mermaid Island Cafe is a dreamy dessert shop in Pathum Thani, and is embellished with mermaid scales on its walls, and even The Little Mermaid characters.
Oh, and they also give you a mermaid tail to wear while dining in the restaurant - casual.
And it's not only the decor that is inspired by the magical sea creatures; the menu is also kitted out with mermaid cupcakes, cheese cakes, waffles, smoothies and coffee.
BRB, getting our mermaid tail on.