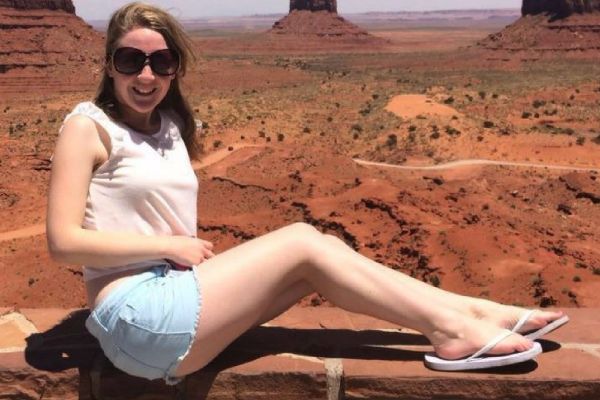 18-year-old Jessica Buck was alarmed when her breasts began to leak "milky fluid" suddenly.
The teen had just started sixth form when she began experiencing symptoms including exhaustion, dizziness and headaches. However, she was more alarmed when her breasts began leaking.
She said: "I had to put tissue in my bra. I was working part time as a retail assistant and kept going to the bathroom, realising that my bra was damp.
"I started to put cotton wool pads or tissues inside my bra, which was embarrassing, as I was constantly trying to hide it.
"I thought that was something that only happened to pregnant women."
The teen consulted with her mother for advice, and she was promptly sent to the doctors. Blood tests proved inconclusive, so Jessica was sent for an MRI.
The results revealed a non-cancerous pea-sized tumour on her pituitary gland. Although it was benign, Jessica was still extremely worried.
The tumour stimulated the production of the hormone prolactin, causing her to produce milk despite not being pregnant. The condition is known as prolactinoma.
Jessica was given the option of surgery or using medication to block prolactin secretions from her pituitary gland. Not wanting to undergo brain surgery unless it was essential, Jessica decided to try the medication.
After starting the drug Cabergoline, Jessica found that her symptoms decreased, but she still suffered some headaches and nausea.
Three years after her initial diagnosis, Jessica was allowed to stop taking her medication. However, she was forced to resume treatment after her symptoms re-emerged.
Jessica told The Sun that her condition is now under control but she worries about how it might affect her ability to have children in the future.
"A few months after the diagnosis, I was told that prolactinoma can cause fertility problems," she explained.
"I was so young when I was diagnosed that babies weren't really on my radar, but I have always wanted to be a mum.
"It is something that is so important to me. I was told that we would cross that bridge when we came to it.
"I have looked online, and lots of people have said that they have the condition and have gone on to have kids, which is great."
The young woman is now enjoying making the most of her life, and has quit her job as an estate agent to travel the world.
"I went to the US for a month by myself and did all sorts of high-energy stuff, like white water rafting in Colorado, flying in a helicopter over the Grand Canyon and speed boating in Miami.
"There was the odd day when I didn't feel great, but the adrenaline got me through it.
"I have been around Europe this year, and I just make sure I am home when I have an important appointment."
She has also recently become an ambassador for the Pituitary Foundation, the UK's leading charity providing support to people affected by disorders of the pituitary gland.
This autumn, she intends to turn her town orange to raise funds for the foundation.