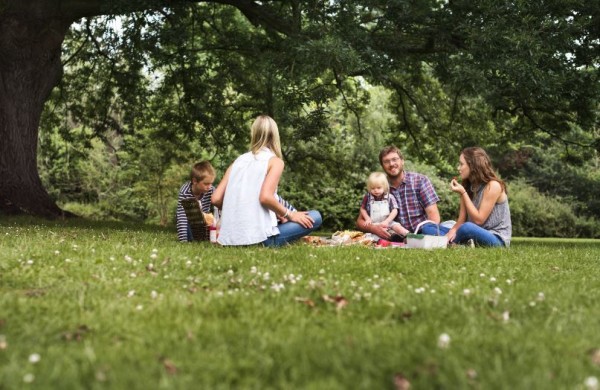 Picnics are a great way to spend an afternoon, especially with this glorious weather that we have been having.
They are also pretty easy to organise and prepare for, all you really need are a few sambos, water, a flask or two filled with tea (or coffee, whichever you fancy), a treat for the kids and a blanket, of course!
Oh a nice spot to eat - which is where we come in.
Whether you're after spectacular views or a place that will keep the kids entertained for hours, we have five tried-and-tested picnic locations that the whole family can enjoy.
1. The Castle Gardens 'Dubh Linn', Dublin Castle
Right behind Dublin Castle is the beautiful enclosed gardens of "the original" Dubh Linn. It is impeccably kept and gives solace from the hustle and bustle of the city. There is one big lawn in the centre with plenty of benches to sit down on and a number of smaller gardens surrounding it, including the Garda Memorial Garden and Veronica Guerin's garden. In the middle of the large lawn you'll find intertwined sea serpents that weave through the grass - the kids will have a great time running along this for sure.
2. Iveagh Gardens, City Centre
With its beautiful water features and gorgeous flowers, this is a stunning little gem in the middle of the city. It's never as crowded as St Stephen's Green (which, by the way, is another pretty spot) so it is ideal for a picnic with the kids. And what's more, it's close enough to the shops along Grafton Street so you can do a spot of shopping after if you fancy it... just saying like.
3. Howth Head, Howth
Howth Head is probably one of the best places for a spot of lunch if you're after some spectacular views. This one is more suited to older kids though, especially if you decide to do the cliff walk, which can be fairly steep in some places. If you don't fancy Howth Head, the town itself is a picturesque fishing village and there is a little green area down by the Dart station where you can enjoy a picnic. If you do decide to settle here, there is a lovely walk along the pier that gives you equally beautiful views that the top of Howth gives.
4. People's Park, Dun Laoghaire
While not the biggest park in Dublin, it's peaceful and closed away from the road, making it ideal for little ones. There are plenty of grassy areas to throw down a blanket and there is a lovely playground for kids of all ages. And if you don't fancy packing your own food, there is a great market on a Sunday where you can get anything from falafels to pizza.
5. Marlay Park, Rathfarmham
This park is ideal for a large family picnic; there are plenty of green areas to base yourself at and for the kids to have a good proper run around. There are also playing fields where older kids, especially, can kick a ball around together or just muck about on. There is also a lovely forest-like walk through the park that Mum and Dad can enjoy, a large lake which is home to a number of ducks and a huge playground that seems to have everything a child could wish for!