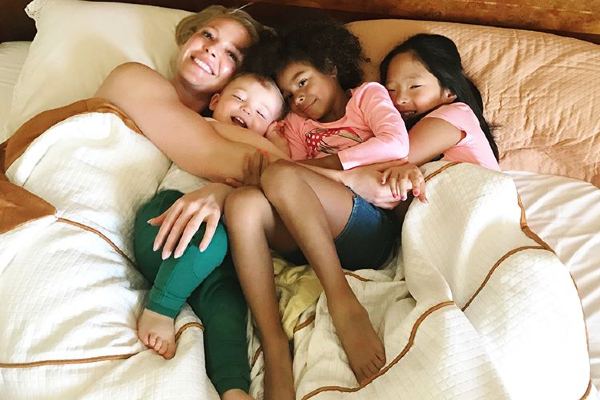 Actress and mum Katherine Heigl balances her demanding career with motherhood like a pro.
Since, landing her first big role in the Grey's Anatomy TV drama in 2005, she has gone on to star in several movies, including Knocked Up and The Ugly Truth.
Her newest role will be on the TV series Suits, and we have no idea how she manages it all.
Not only is Katherine a film star, but she is a mum of four children. She has two daughters, Naleigh and Adalaide, a son Joshua, and she is caring for her sister's 16-year-old daughter as well.
Talk about a rockstar mum!
On a recent interview with TODAY Parents, she opened up about how she is handling motherhood, calling it "terrifying" and "exhilarating."
She said, "When I first became a mother, the idea of loving my children the way I did terrified me. Because it could be all taken away."
When she was just eight years old, her older brother Jason died from injuries in a car accident at the age of 16. Katherine witnessed her parents face their biggest fear as they endured the death of their child.
So, naturally, this traumatic experience was at the forefront of her mind when she became a mother herself. But she believes that it is shaped her to be the mum she is today.
She continued her interview: "I've come to understand that you can survive it, and it doesn't negate the worthwhile love. So it shouldn't hinder that love and your passion for that love in any way — because then you've lost before you've even begun."
She does not take any day for granted. Now, the actress lives on a ranch in Utah with her husband, Josh Kelly, and their children.
For Katherine, like most mums, motherhood is a scary, exciting, and rewarding adventure. She chooses to reflect on a tragic experience and use it to mould her into the best mum she can be.
Cherish all the little moments each day, she suggests. Katherine said she felt like there was always something missing in her 20s. Now, she feels whole with her family around her. "They give me purpose. They've grounded me."