As teenagers, we were all pretty busy with school, and boys, so that the idea of appreciating our health never really crossed our minds.
But unfortunately this was not the case for 17-year-old Caly Bevier.
The teenage ovarian cancer survivor is sharing symptoms that she ignored, so that other girls will be more informed about the disease and know what to look for.
After returning from a family holiday back in 2015, Caly and her mother realised something was very wrong.
Her stomach was bloated, she was vomiting, and she just felt terrible. Caly's doctor initially thought that she was pregnant.
However, it was discovered that Caly had a 5-pound tumour and a rare form of Stage 3 ovarian cancer.
The treatment began soon after her diagnosis, and Caly spent three months in-and-out of hospital undergoing 21 chemotherapy infusions.
"I kept telling myself to just be positive. I knew everything would be okay in the end. When you're going through something so hard you realise how important all the little things in life really are. It has changed me."
Caly's treatments were very successful and she was informed of her cancer's remission. Now, the teen has been in remission for two years, and is determined to raise awareness about the unknown symptoms of ovarian cancer.
"I had a lump growing in my stomach for a year and I just ignored it. I didn't really think anything of it because it wasn't a problem," Caly said.
Caly's wonderful doctor said that "Caly's is a very rare form of ovarian cancer. There are some symptoms, pain in the back and abdomen, burning urination and some constipation…but the symptoms are very non-specific and that's why ovarian cancer is very difficult to pick up.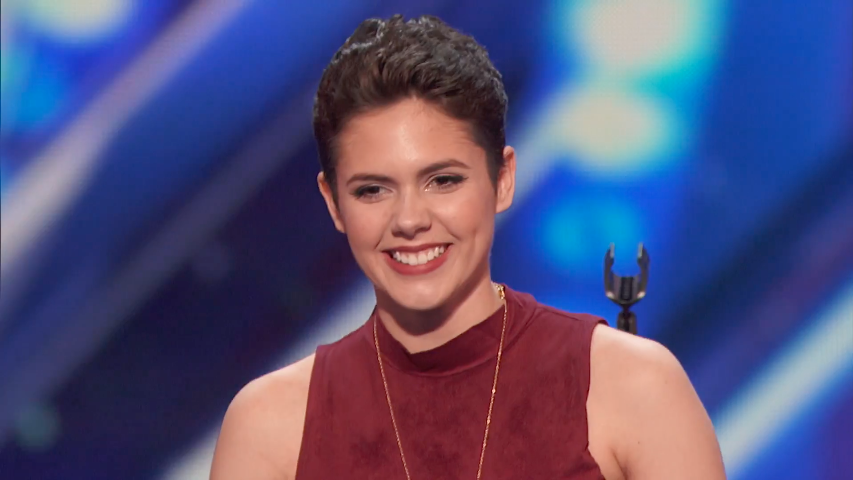 "You won't feel anything until the cancer is large and that's why it can be so deadly for women."
Caly had her left ovary and fallopian tube removed, but she can still have children, if she decides to.
The teen has since moved to L.A. to pursue her dream of becoming a musician. She has even competed on America's Got Talent, where she made it to the semi-final round in 2016 - pretty darn amazing.
"I always loved singing. My grandpa would always tell me, 'You're gonna be a star one day,' but I never did anything with it," she said.
We are excited for this young woman's incredibly bright future.