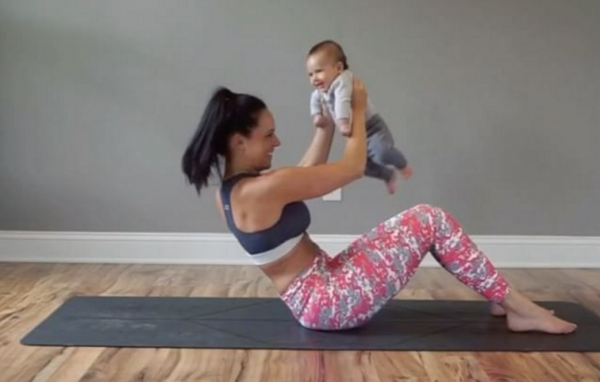 Many mums worry about keeping fit during pregnancy, but one woman is giving us serious #fitspo.
Randi Lynne Greene is a Buti yoga instructor from Ohio, USA. The mum-of-one juggles being a mum and running her own fitness camp, Wild Spirit Yoga, by combining the two roles
While pregnant with her first child, a boy, she continued her yoga inversions and dispelled the myth that mums can't be fit and pregnant.
The devoted practitioner was doing handstands up to the date of son Quinn's birth, something she says gave her a smooth labour lasting only 10 minutes.
"It not only helped with my breathing during contractions and delivery, but it also provided me with a certain level of confidence that allowed me to really tune into my body during labour," she said, adding that Buti yoga contributed '100 per cent' to her zippy delivery.
"Yoga helped me create a deeper mind-body connection during my pregnancy," she said.
Greene's Instagram game is strong. She frequently brings her son on gorgeous outdoor excursions, where she does her yoga poses and even incorporates Quinn and her nephew into her workout. It's definitely inspiration for the next trip to the park!
"I first talked to my doctor," Greene told Fit Pregnancy. "That was my number one thing—I love doing inversions, I love my workouts, but is it safe and OK for me to be doing that? That was my first priority, finding out from my doctor if it was OK. She gave me the go-ahead - she said anything that you've been doing, if you have a strong practice prior to getting pregnant, then it's typically fine to continue."
However, the internet can be a hostile place for mums on social media. Greene says she dealt with her share of haters online who shamed her for keeping active during her pregnancy.
"It's a very controversial topic with the inversions," she said. "I was so surprised - it's almost the norm when you're pregnant to be a little on the lazy side and not do much, as opposed to when you want to stay healthy and fit. People almost seem to want to give you more of a push back. It was ridiculous, some of the things people would say."
Buti Yoga is described as 'dynamic practice fused with primal movement, tribal dance and deep core engagement'. It's a yoga workout which offers a high-intensity session with constant movement, challenging positions and high volume. As a result, you get both strength and cardio without using any equipment.
Greene admits she wasn't always a fan of the practice, saying: "I had tried one class in my life and did not really enjoy that particular class, so I never tried yoga again until I was introduced to Buti Yoga. I fell in love with the practice, and decided almost immediately that I wanted to become a Buti Yoga instructor and share this life changing movement with others.
"I love that it is a complete workout all on its own, and it's a movement to empower women and help you gain confidence and feel comfortable in your own skin."