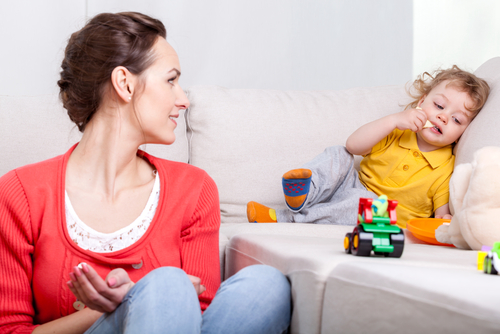 Wondering why you can never get anything done? Well, if you have a toddler running around the house then there's your answer!
Don't like to blame your little one? The following six things will totally help you see through those rose tinted glasses!:
Cleaning the window takes ten times as long
After you've cleaned one side, your little one is guaranteed to go up and lick the glass while you wipe another! Every. Single. Time.
They spill things all the time
Right after you have scrubbed the white sofa clean of your little one's spilt juice, they are guaranteed to wipe their chocolate covered fingers on the curtains. Don't put away that cloth just yet!
They like to undo the work you did, just for fun
No matter how long you spend cleaning the house, soak it all in now because it will only last about ten minutes! Your little one is guaranteed to either spill their toys all over the play or mush bread into your clean carpet.
Your toddler needs entertaining
They haven't quite mastered the art of playing by themselves and if you only have one, you are guaranteed to be called upon to play. There'll be no dinner tonight that's for sure!
They like playing with dirt
You can spend all morning cleaning your little one up after they had a little roll around in the mud, but you'll just have to do it again after they pour yoghurt in their hair
They need to be fed, frequently
Your little one is not yet able to sit on their own and feed themselves without you worrying they might choke or worse, throw their food on the ground. That means you need to spend at least an hour preparing cooking and feeding your little one, before you can even get started on your own lunch!