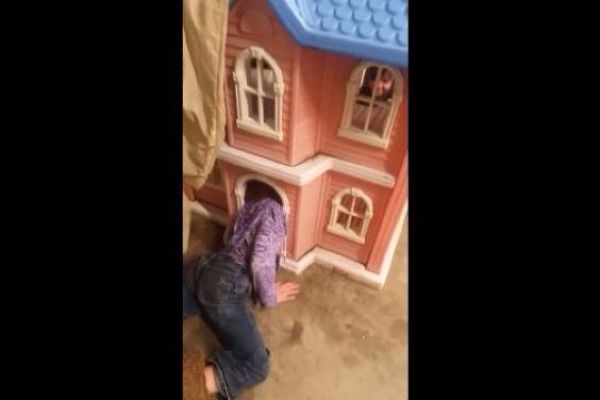 Sometimes you just have a bad day, right? Well, if today is one of those days, then you are about to meet your pint-sized sister.
Little Kylie recently got her head stuck in her dollhouse - we don't know how, or why.
Thankfully, the tot was not alone through her traumatic experience. Kylie's little sister ran out of the room and got their mum right away.
However, as mums, sometimes we don't feel like running to the rescue - especially when the situation is funny, and not dangerous. Kylie's mum did what we would probably do: she laughed her face off, pulled out her phone, and captured the memories.
"Are you actually stuck, Kylie?" asked the brilliant mum.
"Do NOT take pictures!" yelled Kylie, obviously guessing that the footage is going to be all over Facebook within the hour.
The mum took a video, so no trust was broken in capturing the hilarious clip!
After a time, the mum ran around to the other side of the dollhouse, since it was entirely open. The camera reveals poor little Kyle, with her head stuck in the small doll house door - we're still wondering how it even happened.
Trying not to laugh, and mumbling, "My daughter is stuck in the dollhouse", Kylie's mum came to her aid - finally.
Kylie shimmied free from the dollhouse, free as a bird.