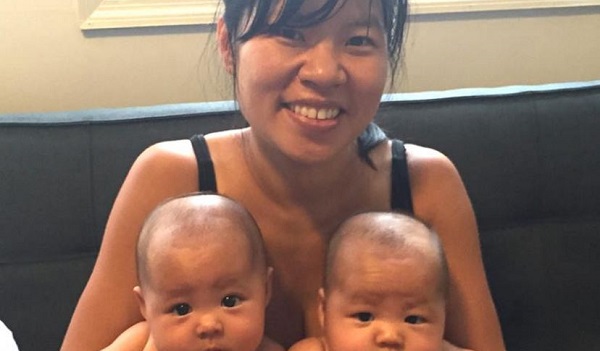 Performance artist Marina Abramovich recently caused controversy when she shared her opinion that motherhood holds back women working in creative industries.
One person who doesn't agree with the statement on any level is New York-based artist Hein Koh, and she took to Facebook to share a powerful response to the very suggestion.
In a throwback photo from last year, Hein can be seen breastfeeding her twins – who were just five weeks old at the time – while working on her laptop.
Explaining how her breastfeeding schedule had her nursing every two to three hours, for 45 minutes at a time, Hein insisted that she was still 'getting sh*t done'.
"Becoming a mum has personally helped me become a better artists – I learned to be extremely efficient with my time, prioritise what's important and let go of the rest, and multitask like a champ," she explained.
The mum-of-two added that, despite the 'torture' of trying to balance everything, the 'flood of new emotions' that accompanied parenthood made her work 'more interesting and layered'.
"Parenting is like any other challenge in life…and if you embrace it and figure out creative solutions, you can emerge a better person. It's important to think about the ways in which these challenges can help you move forward, rather than hold you back," Hein added.
We're sure there are plenty of mums out there who will support Hein's argument.
SHARE with a fellow working mum who will love this post.