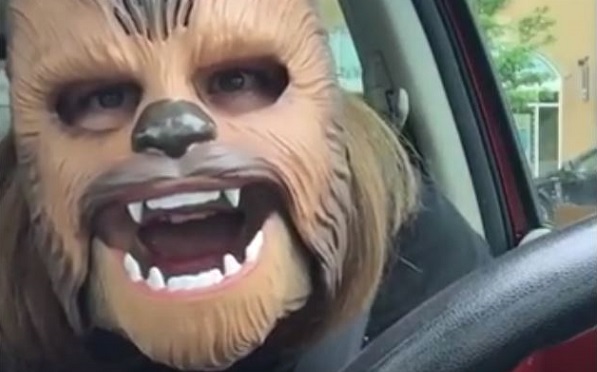 It's Saturday, the sun is (partially) out, we're in a great mood – and we want to share it with the rest of the world. So, if there is one story that is bound to leave your stomach muscles sore from laughter, it is this very one.
A US mum has become a viral internet sensation, after sharing the most hilarious video of herself reacting to the simple purchase of Star Wars Chewbacca mask.
In the video, the mum sits in her car and explains that she is carrying on her 'birthday joy' with a very special gift from the children's toy section of her local supermarket. And she can barely contain her amusement as she takes the Chewbacca mask out of its packaging.
As funny as it is when she places the mask over her head, it's what happens next that left her – and the world – in stitches of laughter: every time she opens her mouth, the mask makes Chewbacca noises.
We guarantee that this will give you the very same level of pure, unadulterated joy that it gave to this mother!
SHARE to give a friend a good giggle this weekend.