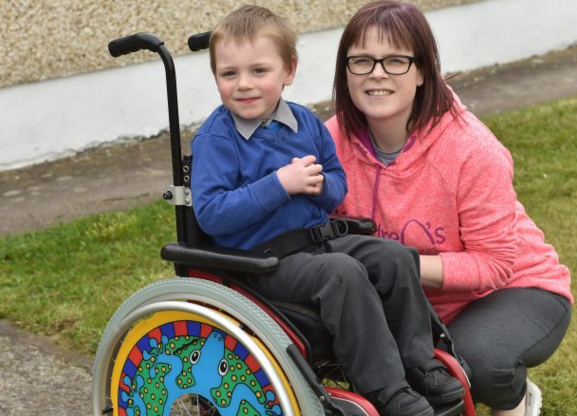 A Cork mother's dreams have come true this week as an anonymous donor has provided a custom wheelchair that her son so desperately needs.
Laurane needed to fundraise a few years ago to buy her son, who suffers with cerebral palsy and epilepsy, his first wheelchair.
However, Alex has now grown out of the wheelchair and needs a new one to cater for the demands of his condition.
Last year, Laurane brought Alex and their family to the US to receive Selective Dorsal Rhizotomy surgery after a community fundraising campaign.
Currently, Alex can only walk short distances and needs a wheelchair for daily use.
Last week, Laurane shared her story with Cork's Evening Echo about her battle with the HSE to get her son the custom wheelchair he needs.
Well, one anonymous donor has been incredibly generous and provided the young boy with his brand new custom wheelchair.
Laurane told the Evening Echo:
"When we got the call from Murray's Medical Supplies to say that a wheelchair was being provided by an anonymous donor and that Alex needed to pick out the exact design I cried. The whole family was hopping around the place with joy."
The chair which costs over €8,000 will be completely customised to suit Alex's needs and personality.
"This chair will tilt back so we won't need to take him out of the chair if he suffers a seizure. It also tilts forward so he can get out of it independently. Since he could communicate Alex has always spoke of how much he loves the colour blue so this will be incorporated into the wheelchair. He's requested a racing car style one. I've seen wheelchairs with their wheels designed to look like hubcaps so we're assuming it will look something like this."
Alex will have to wait a little however with it taking two months for the chair to be made and delivered but Laurane wanted to stress that not every child has been as lucky as hers.
"There are other children out there waiting who have to suffer in silence. I would urge parents in my situation to come together in order to make their voices heard."
SHARE this family's great news.