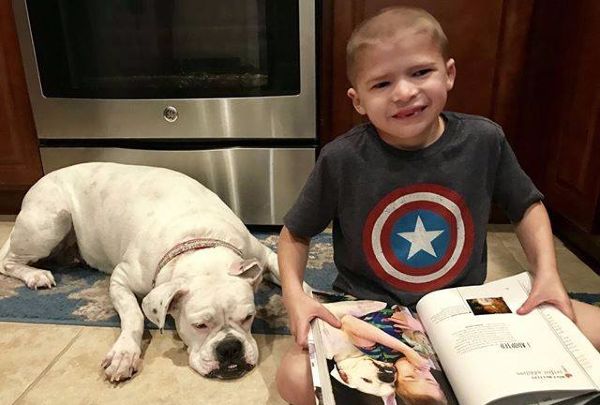 Brandi Guillet's young son was born addicted to painkillers, and abandoned by his birth mother when he was just a few days old.
The addiction did not matter to Brandi, who so badly wanted to be a mother, and had suffered a number of disappointments regarding adoption previously.
Despite the fact that Connor was born with an addiction, he's a normal child today, except for the fact that he does not speak.
Because of this detail, Brandi and her husband decided that Connor needed a friend; more specifically, a dog.
The family visited their local Boxer rescue shelter and discovered that some of the dogs were deaf and used simple ASL signs, which Connor also used to communicate - talk about fate.
Brandi shared her family's story with Love What Matters Facebook page, explaining the process that went with rescuing a dog:
"So, we went and met the dog, and she immediately began licking Connor and let him put his hands all over her face. It is the most beautiful thing to see: he shakes his finger at his dog, and the dog stops what he's doing. Connor motions 'come here', and she goes to him. And all of a sudden, my nonverbal son has a best friend he can talk to and who understands him."
The only issue was that gorgeous Ellie was actually a foster dog, and was due to go back to the shelter for adoption - because Brandi could not afford the adoption fees.
"I knew as soon as she came home that she wasn't leaving. She was my son's best friend instantly," Brandi said. "But the adoption fees were expensive. Then, one day, the phone rang. It was the rescue shelter telling me that she had been adopted. At first, I was heartbroken that we would have to give her up. Then they said, 'You have a guardian angel in New Jersey.'"
A woman had heard about Brandi and Connor's story, and decided to help this amazing family out - by paying the adoption fees for Ellie the boxer.
"I did what I did because of any child or pet with special needs — it's expensive," the woman said. "I wanted to give Brandi some room to breathe. It was clear that dog was right where it needed to be."
What a beautiful story!