I first discovered the Aveeno brand on a trip to France – my poor baby daughter was literally in bits with terrible eczema – it was so bad, that we contemplated giving up and coming back home from our holiday. She was our first and we didn't have a clue. We ended up visiting a local doctor and he recommended Aveeno to us as it contained oats which he said were well-known to alleviate the symptoms associated with skin sensitivity and conditions such as eczema.
Oats are known for their skincare benefits, they can form a protective film on the skin and help to moisturise dehydrated areas. The oat used in Aveeno is known as a prebiotic which can support the growth of microorganisms naturally found in the skin microbiome. When the skin microbiome is balanced, the skin is healthy and this helps it to flourish while you can say hello to skin that feels moisturised and comfortable all over. We headed back to the hotel and started using Aveeno immediately and to say it was like magic is an understatement. It worked overnight – the next morning, her skin was less inflamed and gradually got better over the next few days.
Since then, we have been Aveeno addicts but it isn't just good for the kids. Life can often feel like a delicate balancing act and along comes a curveball to throw everything completely out of kilter. When our life goes out of balance, often the first place it shows is in our skin. When the world's most recent curveball hit, who didn't have dry, chapped hands? Stress, poor diet and over washing can all affect the skin making it vulnerable to irritants and harmful bacteria which can cause inflammation, flare ups and itching. If we've learned anything over the last few months, it's the importance of looking after ourselves as much as each other.
The experts at Aveeno understand the importance of balance, harmony and of course, self-care. Healthy, hydrated skin has a preserved skin barrier and a balanced microbiome. Our skin's microbiome is like a garden. Made up of millions of micro-organisms which live within the layers of skin right through to the surface, this ecosystem is unique to each individual. If the microbiome is like a garden, then our skin is the soil. A living, breathing organ and the body's largest, it needs proper care, maintenance and the right pH to stay healthy and thrive. Healthy, hydrated skin is all about creating a healthy environment for these micro-organisms, and like most things in life, it's all about achieving the right equilibrium. The Aveeno Skin Relief Range helps to improve the balance of the skin, leaving it more resilient and healthier looking from day one.
Dry and very dry skin is a perennial skin complaint, one of the most common in the Irish population and the result of an unbalanced microbiome and a damaged skin barrier. Help is at hand with the Aveeno Skin Relief range of products, with Triple Oat Complex* to nourish, soothe and protect very dry, sensitive and irritable skin. The range offers a complete skincare routine, with shampoo, body wash and body lotions along with targeted Skin Relief balm, to help keep skin healthy and moisturised all over the body, from head to hands to feet: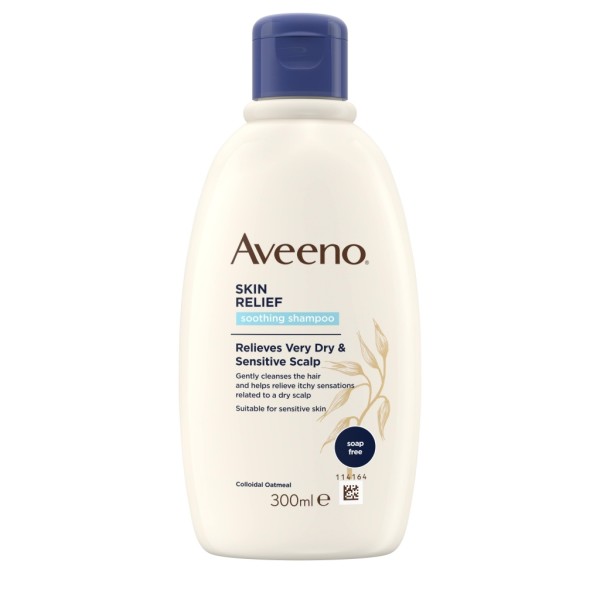 Aveeno Skin Relief Soothing Shampoo: Healthy hair starts with a healthy scalp. Aveeno Skin Relief Soothing Shampoo gently cleanses hair and helps soothe itching sensations associated with very dry and sensitive scalp. Hair is left looking soft and beautifully shiny. Aveeno Skin Relief Soothing Shampoo is soap free and suitable for frequent use, even on thin and fragile hair.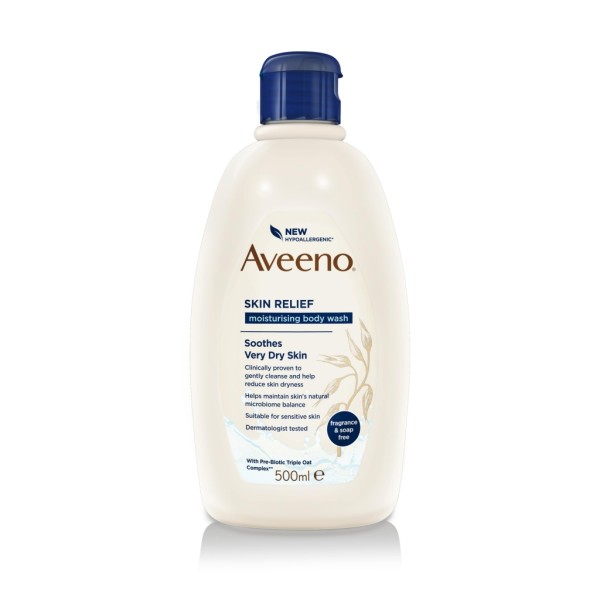 Aveeno Skin Relief Moisturising Body Wash is clinically proven to gently cleanse leaving skin feeling soothed, clean and fresh whilst helping to reduce skin dryness. When used as part of a regime with Aveeno Skin Relief Moisturising Lotion, Aveeno Skin Relief Body Wash with prebiotic Triple Oat Complex* helps to improve the balance of the skin's natural microbiome. Fragrance free and soap free, it is suitable for very dry skin.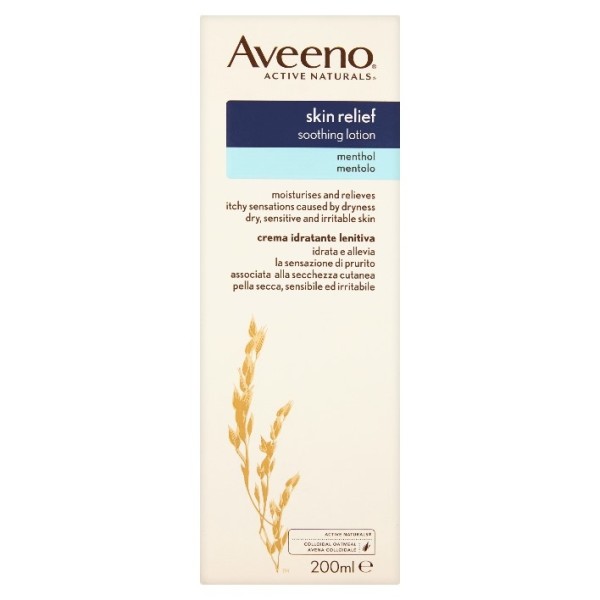 Aveeno Skin Relief Moisturising Lotion with Menthol moisturises and relieves itchy sensations caused by dryness. Containing finely milled naturally derived Colloidal Oatmeal, this unique formula is clinically proven to intensely moisturise skin for 24 hours. Menthol offers a light, cooling sensation while the entire formula works to soothe dry, sensitive and irritable skin and relieve the itchy sensations caused by dry skin.
Aveeno Skin Relief Moisturising Lotion with Shea Butter is formulated with a prebiotic Triple Oat Complex* (oat flour + oat extract + oat oil) and shea butter. It is rich, fast absorbing and non-greasy formula is clinically proven to moisturise and effectively soothe very dry, irritable, or sensitive skin. Even suitable for a diabetic's rough, dry skin.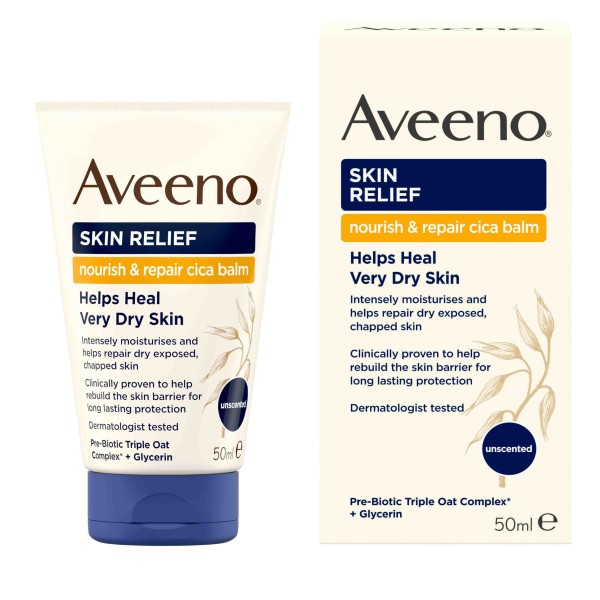 NEW Aveeno Skin Relief Nourish & Repair Cica Balm is formulated with glycerin and prebiotic Triple Oat Complex. The formula intensely moisturises and helps repair dry exposed, chapped skin. Clinically proven to help rebuild the skin barrier for long lasting protection, it is unscented, and dermatologist tested.
If you or your family is struggling with skin issues, then give the Aveeno brand a try - in addition to Skin Relief, they also have a baby range too. The range is available from leading pharmacies with select products also available in grocery accounts nationwide.