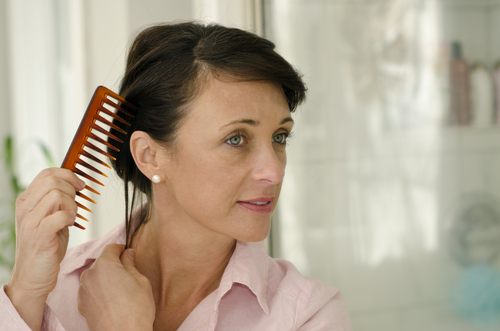 Thinning hair is not widely discussed even though it is common for women to experience it as they get older.
And while it can certainly be stressful having to deal with it, there are, thankfully, a number of things you can do.
1. Style it up
Head to your local hairdresser and ask them for a style that will suit your hair and make it look fuller. While the last thing you will want to do is cut off any of your precious locks, you will be surprised by how thick your hair can look and feel after a cut.
2. Add dimension
Give your hair depth and dimension with colour and layers. However, when you are experiencing thinning hair the last thing you want to do is use a colour out of the box so head to your hairdresser, who will be able to care for your hair as they colour it.
3. Use volumising hair products
Make sure you use a shampoo and conditioner that it going to give your hair some volume rather than make it flatter.
4. Use mousse to add volume
After you wash your hair with volumising shampoo and conditioner, use a mousse rather than a spray to give your tresses some much needed oomph. Focusing in on the roots, rub some mousse into your hands and push it into your hair to give it a lift.