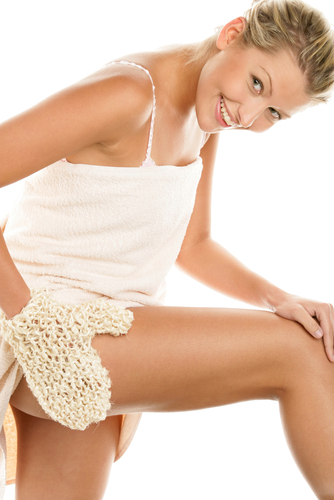 We all have a little,or even a lot, of cellulite lurking, and whether you are curvy or slim there is no escaping it. Cellulite, also known as orange peel or cheese thighs, is fat beneath your skin that causes a dimpling effect, most notably around the thighs and bum.
There are a number of different easons for it such as hormones, diet or genetics, and while it is not harmful, most ladies would prefer to get rid of it as it can be unsightly. So here are four ways to reduce and prevent it.
One of the places cellulite forms is in areas with the least amount of circulation, so get moving to increase blood flow. Go for a walk or a run – whatever you enjoy the most.
Get rid of toxins
Eat plenty of fresh fruit and water to flush toxins out of your body. Avoid coffee and tea as much as possible as it can dehydrate you.
Use a body scrub
To remove or decrease cellulite you need to get the blood flowing underneath. A body brush rubbed towards your heart will help to break it up.
Use products after exercise
The best time to use cellulite cream is after exercise so wait until then for the ultimate effect.