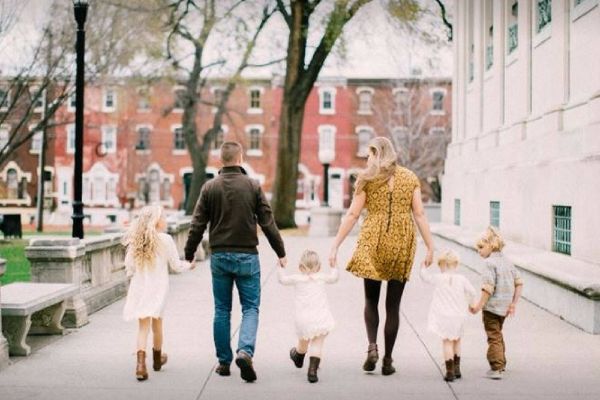 Foster mum Jamie has welcomed many children into her life as a temporary carer and had to say many heart-wrenching goodbyes when they left her home.
Last year, she and her husband applied to adopt two young girls that they fostered and expanded their family from four to six.
She explains on her blog Foster the Family that from the moment the girls arrived in her home, she and her husband were prepared to love them just like their other children.
"After bursting into our family, you eased into our lives and hearts," Jamie wrote. "The formalities of our state-regulated, court-appointed, 'temporary' relationship faded away. We dropped the 'foster' from your title, and you simply became 'daughter' ".
She explains that her love for her adopted daughters doesn't come with conditions. "You're not my foster daughter, I don't love you 'like you're my own,' " she revealed. "Today you are wholly, completely, forever my daughter".
She compares the relationship with her foster daughters and their subsequent adoption to that of meeting her husband, gradually getting to know each other before falling in love and signing papers to make it official.
"I met him. Then I fell in love with him, knew I would spend the rest of my life with him, and then came the day to make it official," Jamie wrote.
"Papers were signed, names were changed, ceremonies were had, but I didn't love him any more than I had the day before.
"He was the same. I was the same. Nothing had changed. But everything had. After that day, we belonged to each other, officially, forever".
Compared to the birth of her two biological children, she admits it is a different experience but equally rewarding.
Although nothing has changed in terms of her love for her daughters, signing the adoption papers makes them officially her own children.
Concluding her open letter, Jamie writes: "This day, this adoption day, is one of the happiest days of my life. Today, I become your mother. Today, you become my daughter.
"Happy Adoption Day, my dear daughter, I love you. Love, Mommy".
What an incredible and touching insight into life as an adoptive parent – we wish Jamie and her family all the best for the future.