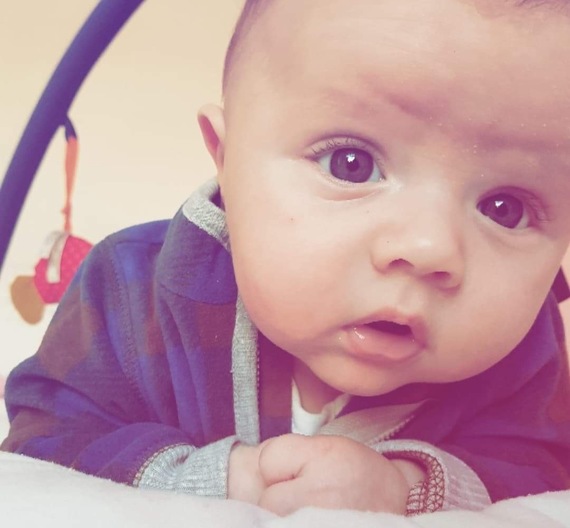 Mum Tara O'Byrne from Mornington Co. Meath had noticed her little boy Oscar, just 11 weeks old had been out of sorts for a couple of weeks. Tara did not expect that the irritability associated with the onset of teething could start so early, but she was in for a big surprise.
With less than two weeks to Oscar's first Halloween, you can imagine Tara's fright earlier this week when she discovered that a vampire tooth had erupted in his mouth literally overnight. Concerned that the conical pointed sharp tooth might injure her little boy's tongue or hands as they frequently entered his mouth, she immediately rushed him to her local hospital for medical advice.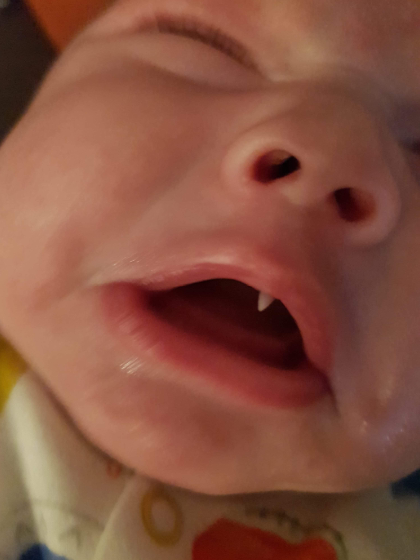 Speaking to MummyPages, Tara said; "The doctors were all puzzled, they said they had never seen anything like it before. They had to ring Temple St Children's hospital for advice, who recommended a dentist in Drogheda who could see Oscar."
After further consultation, the dentist recommended to remove the fang like tooth, They concluded it was an extra tooth which had not fully formed, hence the conical shape. In fact it had burst through his gums just behind where his front teeth should be, and so needed to be extracted.
"The team of dental staff didn't know what it was at first", the mum of two said. They weren't even sure it was a tooth until the dentist took it out."
"We noticed a lump in his mouth when he was a few days old. Then at the 2-week check, the GP said it was simply a cyst and nothing to worry about. The cyst had been getting smaller and smaller over the weeks, but now we know this was the exact spot where the tooth emerged from."
An emotional Tara said, "It was so upsetting for Oscar and I. The dentist couldn't put him to sleep, I had to hold him securely on my lap and keep him as still as possible while they rubbed some topical anesthetic cream on the gum area and then just pulled the tooth out."
"It was horrible, he was hysterical and I felt so complicit holding his arms and legs tight while the dentist did what he had to do. He didn't take a sip of milk for hours afterwards. I was so worried, he would be dehydrated on top of everything after going without for nearly 10-hours."
Now mum Tara and dad Brian, have decided against notifying the tooth fairy of Oscar's first tooth, and will save the little fang to show him when he grows up.
"He's our very own little dracula", said mum. "Thank goodness he is doing so much better now that it's out and after lots of cuddles, of course".