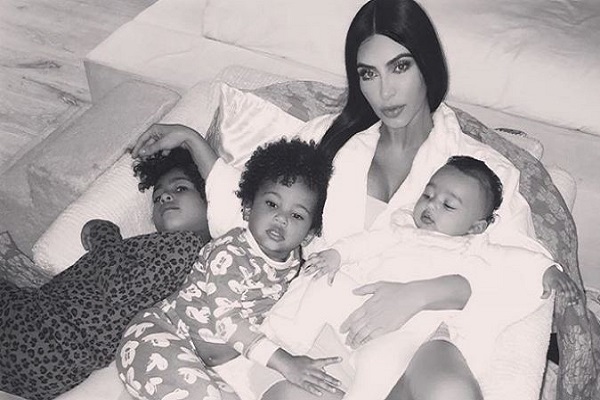 Kim Kardashian's Instagram posts cause mass controversy from time to time, and this week the mum-of-three has been hit with a wave of backlash following one very offensive post.
Kim shared a sponsored post for appetite suppressant lollipops: "#ad You guys… @flattummyco just dropped a new product. They're Appetite Suppressant Lollipops and they're literally unreal. They're giving the first 500 people on their website 15% OFF so if you want to get your hands on some… you need to do it quick! #suckit"
If you want an appetite suppressant, just eat food. That's what it's there for. Why are there endless articles, fake nutritionists, stupid fucking lollies & Kim Kardashian constantly telling us ways to suppress our appetite? STOP PATHOLOGISING HUNGER. Humans need to eat.

— Amy Abrahams (@Amy_Abrahams) May 16, 2018
The mum has received an intense amount of hate for the post, with many people stating that she is promoting eating disorders.
As such a well-known public figure, Kim is a huge role model for girls around the world, she should use her platform to spread positive and empowering messages.
However, many people have found the advert distressing, "You should be promoting self-love not starving yourself," said one user.
Star of The Good Place Jameela Jamil was furious when she spotted the advert. The actress is a huge advocate for body positivity, so naturally, she was outraged.
Why buy Kim Kardashian's appetite suppressing lollies when you can eat the finest appetite suppressor known to man...

AKA REAL FOOD.

— Marina (@MarinaDiamandis) May 16, 2018
"No. F**k off. No. You terrible and toxic influence on young girls. I admire their mother's branding capabilities, she is an exploitative but innovative genius, however, this family makes me feel actual despair over what women are reduced to," she tweeted.

She added, "Maybe don't take appetite suppressants and eat enough to fuel your BRAIN and work hard and be successful. And to play with your kids. And to have fun with your friends. And to have something to say about your life at the end, other than "I had a flat stomach."
Kim Kardashian promoting appetite suppressants. Does she have absolutely no shame? This is incredibly damaging and dangerous. pic.twitter.com/thFTNoCjYA

— Em Sheldon (@emshelx) May 16, 2018
The number of young adults suffering from eating disorders like anorexia and bulimia is on the rise. According to the National Eating Disorder Association, up to 70 million people are suffering from eating disorders around the world.
Many mums were stunned by her offensive advert especially as she has children of her own.
One mum expressed her anger, "I've lost so much respect for you after this post. As a mother yourself, a mother of a young girl, how could you post something so dehumanising of women? Your willing to trick young girls into buying a 'lollipop' to 'reduce their appetite' for a little bit of extra money that you clearly don't even need."
With 111 million followers, Kim must be careful about the messages she is sending to young women around the world.