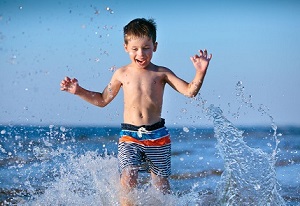 Before the summer, one mum went public with her experience of child 'dry drowning', and now another concerned mother has come forward to share her own important warning with the world.
Laura Collins has urged parents to be aware of the potential dangers that swimming trunks pose to their young sons, which she witnessed first-hand during a recent holiday with her five-year-old son.
Laura was in Spain with her family and young Jack, where he enjoyed plenty of time in the pool. One day, however, when Laura brought Jack into the shower to wash him down, she was in for a major shock.
As she pulled down her young son's shorts, she realised that his penis had become tangled and caught in the inside netting, which was "literally strangling it".
In a Facebook post documenting the frightening incident, Laura said: "He was screaming a scream I hadn't heard before. I carried him to reception [at their hotel] and asked for some scissors."
However, neither Laura nor the staff were able to free Jack's penis from the material which, by now, had lodged around it.
Laura's next move was to rush little Jack to hospital where, under a local anaesthetic, doctors managed to cut the child's penis free.
Thankfully, there was no permanent damage to Jack's penis or urinary tract, but things could have turned out a lot worse – and this was not the first time that the doctors had encountered an incident like this.
In an interview with the Mirror, Laura said that Jack has "bounced back" from the accident, but she went on to urge parents to be careful and vigilant with swimming trunks.
"Please, those with young children, remove the netting in swim shorts," she warned.