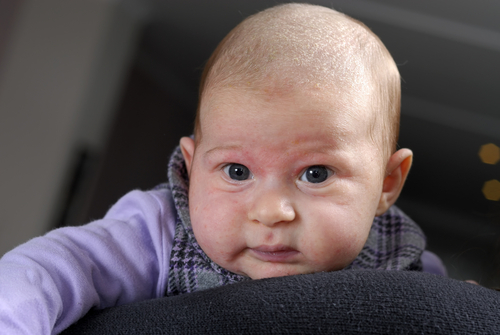 Infantile eczema is a dry skin condition that produces red, itchy patches on your baby's body. It can weep and bleed, especially if it is scratched, which can lead to infection. It normally affects children in the first six months of birth and can stay with them for many years. It ranges from mild to severe and usually runs in the family, especially if there is a history of hay fever or asthma.
How do I know if my baby has it
In newborn babies, rather than dry and scaly, eczema can be very weepy and usually occurs on their head, most notably their cheeks, scalp and forehead.
The skin may also feel rough to the touch an can be mi
staken for cradle cap when it is on the scalp.
When will it go away?
Thankfully, for most kids, eczema will ease up by the time they are four or five, but they will always have dry skin and may experience flare ups every now and then. Unfortunately, not all kids will grow out of it and some will continue to have it right in adulthood.
Knowing the triggers
Knowing what causes your child's eczema to flare up can make a significant difference to helping stop it. Drooling can irritate the skin around the mouth as well as certain substances, like soaps and washing power. Environmental factors are another source: cigarette smoke, perfumes, air fresheners and dust mites. This is because the skin doesn't have as much oils and fat to be able to create a protective barrier.
Treating it
Eczema is not curable, but knowing the triggers can help to stop flare ups. For very severe cases you may need to get anti-inflammatory medications or a steroid ointment from the doctor. Try to keep baths short and avoid using products in the water which will irritate the skin. These include perfumed gels and certain bubble baths. Apply moisturiser after to keep the skin soft and never use a rough wash cloth which may open up the skin causing it to become infected.
Easing discomfort
When it comes to relieving the itch, you should rub rather than scratch and make sure your baby's nails are cut short so they won't accidently cut the skin. Opt for loose fitting clothing to stop it rubbing and keep the house at an even temperature, not too hot or warm – sweat can trigger a flare up.