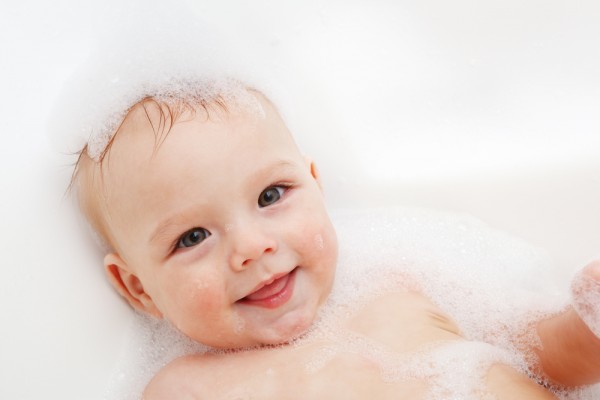 I have a confession to make.
I steal my baby's washing products. But in my defence, you would too if you had tried the Baby Dove range. The products are so soft and smell fantastic!
And our mummy reviewers agree.
These super baby-friendly products are hypoallergenic and dermatologically tested. They don't sting my little one's eyes, and the baby lotion afterwards is a nice way to relax and bond.
We gave our MummyPages panel Baby Dove products to try out and here's what they said:

"I can't say I'd have a favourite - but the head to toe was was a lovely product to use, a very gentle scent and skin felt soft after use. The baby lotion for use after the bath, is a lovely way to bond with my daughter and just before bed, and a little goes a long way, so the bottle will last a while.

The wipes and nappy cream were very good too and did exactly as they should.

I've been including the wipes and cream in her bag, so they creche know about them and I told them that I would highly recommend. Would be happy to recommend to other mums, and will buy again if I see them in the shop."
Orla Mul agreed that the head-to-toe was her top choice:
The shampoo is lovely and you only need very little to get a great lather going on the full head. There were no sore eyes when we washed it out or anything so I think thumbs up all round!


The wipes were a little drier than I would have liked but in saying that I would use them again. I'll be honest they doubled up as makeup remover wipes for myself as well and I found them great for both uses.


I adored the lotion. Her skin felt like heaven when I applied it after her bath. Even my MIL commented on how soft her skin was after using it!


Our stand out favourite product (and my husband rarely comments on these things) was the nappy cream! it was brilliant. Our LO is in the depth of teething etc and continually has nappy rash. This cream worked brilliantly on it. As well as the results it's a lovely cream to apply. It's easy to spread. And it's not a nightmare to get off your hands afterwards.


We will definitely be investing in these products again."
Dalton S pointed out that she hadn't heard of the products before, but the fact that the Baby Dove range is safe for babies is very impressive:
"I think my favourite was the wipes and nappy cream - the wipes are something we go through a lot of, and the Dove wipes were perfect, not too wet and perfectly sized. The nappy cream was in a very handy squeezy tube - much better than the tub I normally use, which can be quite messy.

The head to toe wash, shampoo and moisturiser are lovely too - although we don't use them every bath time, they are definitely very nice to use, and again have a lovely soft smell. And I especially like that all products have been tested and are safe for babies, even from newborn.


Overall I would give the Baby Dove baby range top marks, I will be buying again and I would recommend to other mums.


The Dove Baby range has a lovely gentle scent to it, and I especially like that it is safe for babies even from newborn."