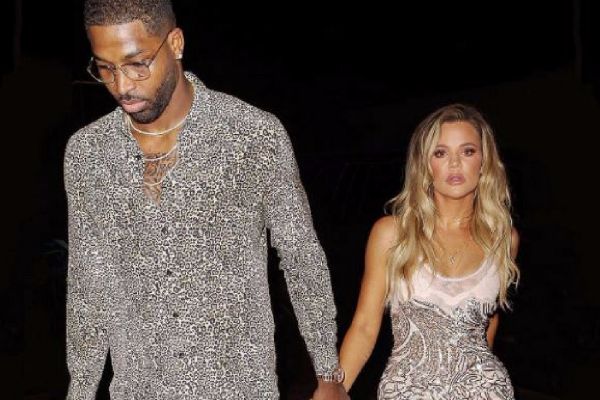 Tristan Thompson has spoken out publicly for the first time since the birth of baby True.
Khloe Kardashian gave birth to their baby girl last month.
The NBA player revealed details of life with newborn True on the podcast Uninterrupted's Road Trippin.
Breaking his silence on Wednesday, he said the baby is "doing good," during the interview.
"Baby True is eating, sleeping and, uh, s**ttin'. That's all they do," he said.
The couple has not released any photographs of their baby girl to the public, however, the 27-year-old gave an insight into what the little girl looks like.
According to the basketball star, she has a "full head of hair", green eyes and was born 21 inches long.
This is Tristan's second child, his son Prince from a previous relationship with Jordan Craig, was born in December 2016. During the interview, the NBA star opened up about the differences between having a son and a daughter.
'Yeah, I think with a girl, you're just so much more emotionally like… With a boy, it's just like, hey, man. You'll be alright, man. Stop crying.",' he said.
'But [with True], it's like, "True, it's gonna be OK. You know, we're right here. Daddy's here to feed you. It's me! Look, yeah!"
It's way different, but it's fun, though. It changes you.'
Addressing the question if Thompson is finished having children, Tristan reportedly hinted that things are okay with Khloe and that he was keen to expand his brood.
'Naw, I'm gonna keep going,' the dad-of-two revealed. 'I've got a couple more. I got a couple more left.'
Although Tristan didn't mention his relationship with Khloe during the interview, and Khloe has not publicly addressed recent allegations, it has been reported that the couple are working things out.
Despite Khloe staying quiet, her family have expressed their opinion surrounding the situation.
Kim Kardashian recently opened up to Ellen Degeneres on her show about how much she feels for her sister, but she always has the support of her family.
'Poor Khloe. Like, I don't even know how to describe it besides it's just so f**ked up,' she admitted. 'We really were rooting for Khloe and we still are.'