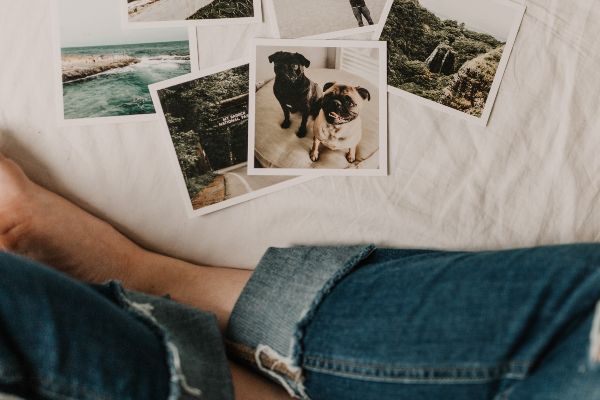 Photos really are the most uniquely beautiful way to decorate your home. So why is it that we can never find the time to do anything with our own precious memories, yet gaze in wonder and awe at the collections put together by friends in a classic case of #HomeEnvy
With the kids now back at school I was energised to breathe life back into the interior design aspect of my home. Inspired by my phone reminding me several times daily that it was out of storage due to the large volume of photos contained therein, I decided to get creative by finally turning some of those images into works of art.
A busy mum nonetheless, I looked for an app to take the pain out of selecting, editing and printing my pictures. The Fujifilm Imagine App was just the ticket with a simple ordering process that also delivered to my door and a range of products that were going to transform my bare walls #MyHomeMyThrone
Top of my list were ideas that centred around the kids rooms. It had been in my plans for quite some time to do up my son's room so it was a great incentive to get going. I was so impressed by the huge range of product options available with the Fujifilm square print range that I decided to mix and match a few different print choices in each of my two children's bedrooms.
I have this belief that the decor in a children's bedrooms should reflect a positive space for creativity, imagination, happiness and safety. For my two little ones, I wanted to be sure that anything I put on their walls would be fun, cool, but also be a reinforcement of what's important in life. When they are in their own company, with time to think about things, whether it be before they go to sleep or when they are chilling out during the day - I want them to think about the great days they have had and the things they should be thankful for. I also want them to be proud of how far they have come in their short years. The products which I choose from the Fujifilm square print range were perfect for my design plans.
Lexi's Room

My daughter is 9 years old, we had to change her bedroom around at the start of the school year, so that we could include a homework desk - her idea! So there was a reshuffle of furniture and after this was complete, it became obvious that the walls would need a refresh too. I have always filled her walls with positive words of wisdom which come in frames that I seem to regularly stumble across while I am out and about!

However now that she was transitioning to spending even more time in her bedroom with homework, I wanted to make her room more personal to her. The Fuji square montage in the Fuji Imagine range was perfect for this. You get to pick 13 pictures which are put into a lovely square frame for you, with the choice of black or white for the surround. The square montage is made up of one large square picture in the middle and 12 smaller square pictures around this.

I decided to choose photos which reflected some of the special times and milestones during her 9 years on this earth - her playschool graduation, first day at school, first swimming medal, holidays, family days out and more. When the square montage frame arrived to my home, I was thrilled with how it turned out, it simply had to be the centrepiece of my wall design. I then mixed some of the quotes and pictures I already had with the montage as if there were hanging on branches of a tree. In essence, it was "The Tree of Lexi's Life". We have now extended the branches on to another wall so that we can add memories too as the years go by.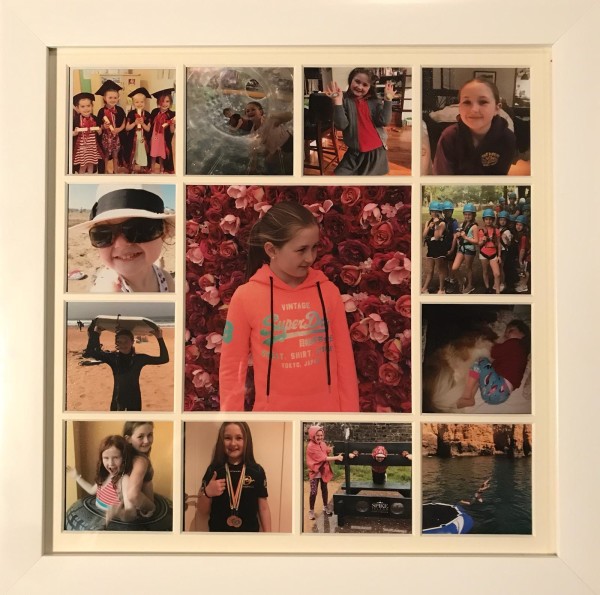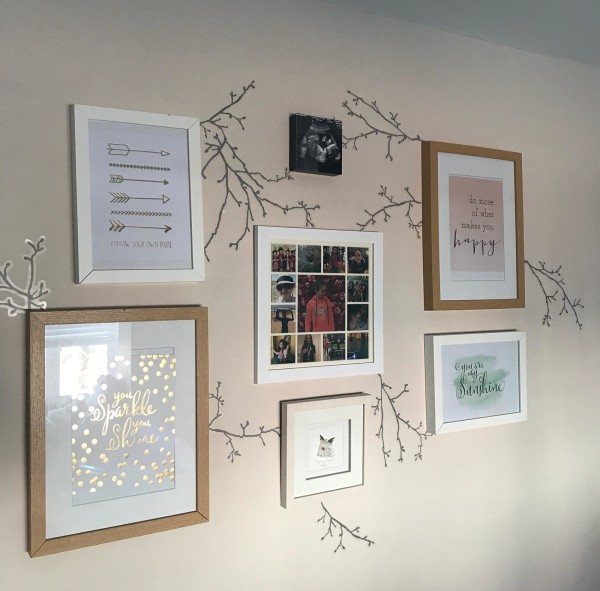 More Branches to be filled in the future!
Seb's Room
Seb is our second and last child, so he got the box room and it was well overdue a revamp. Our first step in order to maximise space was to get a bed built in with lots of storage and wardrobe space underneath. This left me with a lot more wall space to plan and design his photo gallery wall.
I decided to use the 'Square Photo Block' printing option within the Fujifilm Imagine range. They are a square wooden block upon which your picture is mounted. They are just so cool and perfect for my boy's room, even if there were hijinks with his friends, I knew our precious memories would withstand a knock!
Again, I wanted to put pictures on his wall that were a reminder to him of great events and happy occasions in his little life. I included his last day at playschool, a day on the beach, his first school swimming medal and having fun with his cousins.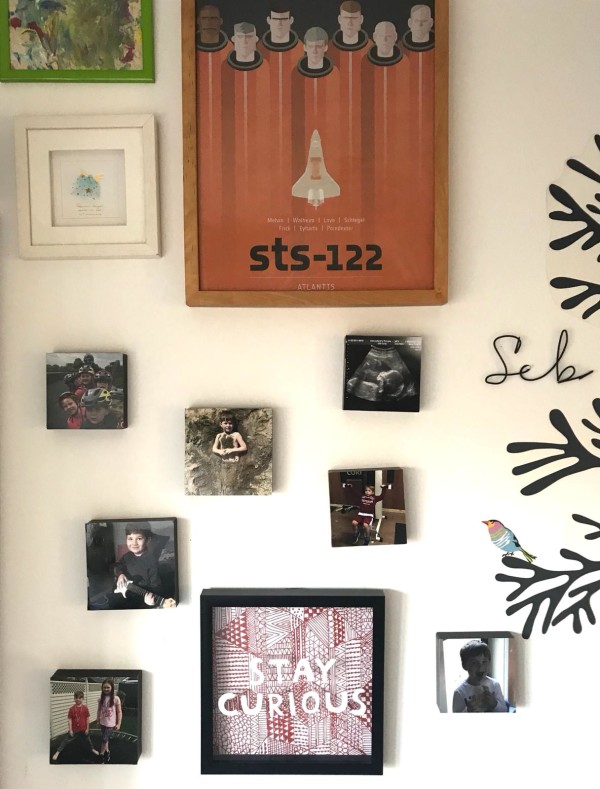 Seb loves to look at his ultrasound picture from when he was a small bean in my tummy. He is just fascinated with it! It was, therefore, a no-brainer to take a close up photo of one of his ultrasound pictures and transfer it onto the square block. Of course, I had to get one for Lexi too so that there would be no fighting!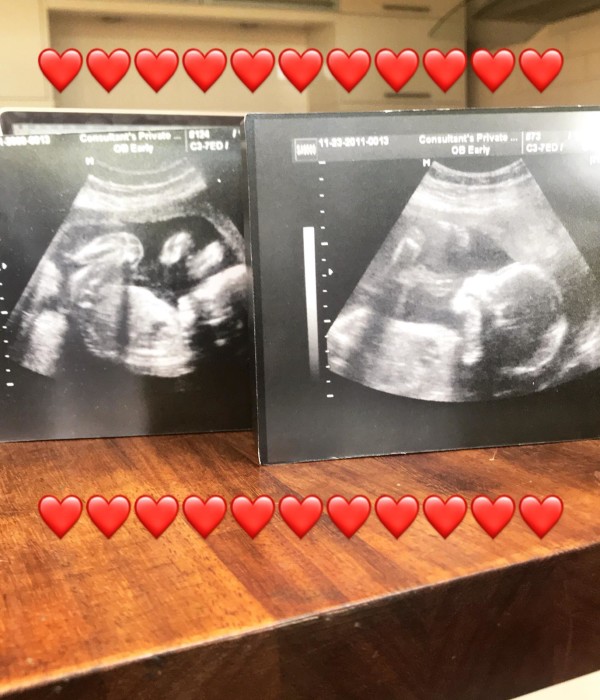 Again I peppered these photo blocks with other pictures to decorate the largest wall in his bedroom.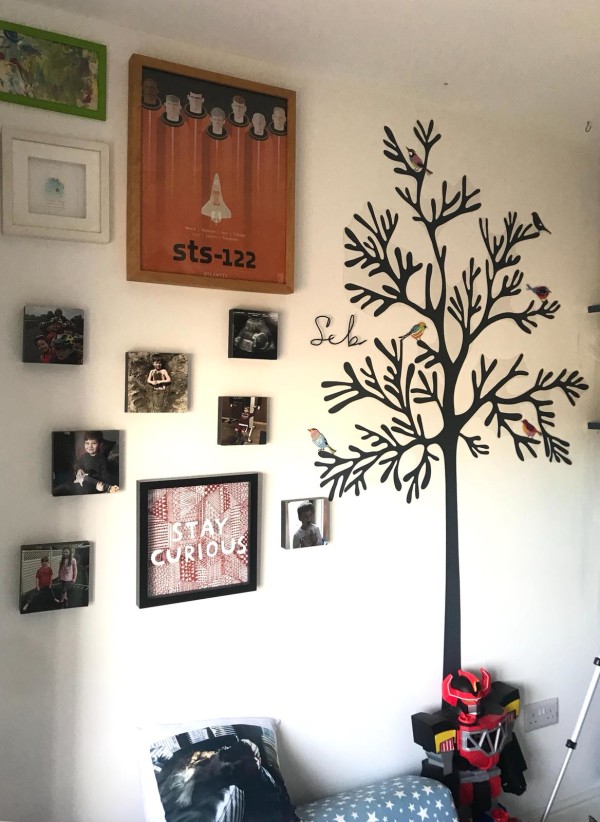 To complete the square photo collections, I was inspired by the Fujifilm Imagine gift range to get a very special item for both of the children's bedrooms. We had a family dog called Cooper who died nearly two years ago. The kids still pine for her and talk about her nearly every day.
This special gift item is the printed photo cushion covers. I selected a picture of each child with Cooper and got two cushion covers printed, one for each of their beds. Now they can have a cuddle at night when they were heading off to the land of nod!. For both kids, this was their favourite out of all the items from the Fujifilm square range and their bedroom interior design revamps.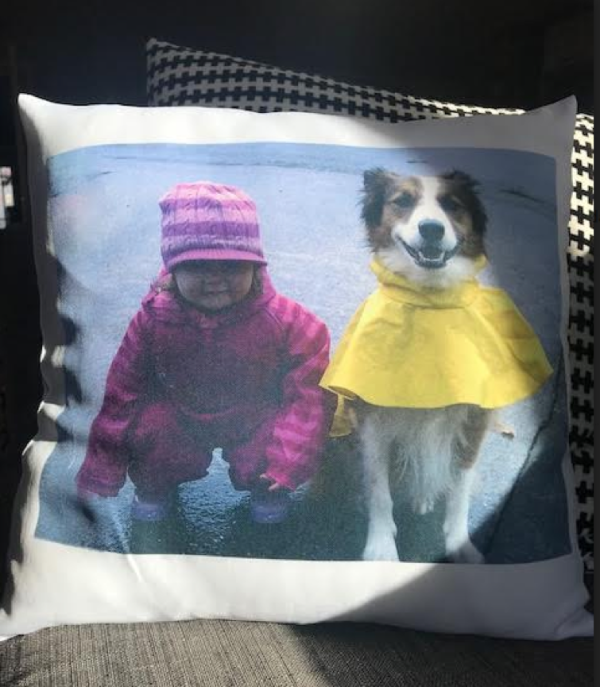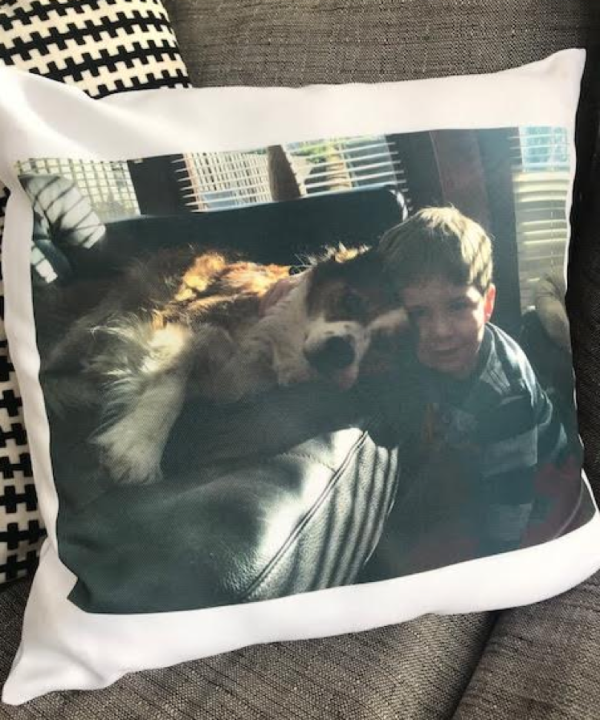 So I have done it…finally, I printed some photos and more importantly, precious memories that my kids can enjoy looking at without having to go into my phone!
I would highly recommend the Fujifilm Imagine app and range photo printing options and gifts. It's so easy and in particular, the Fujifilm Square catalogue is very on trend.