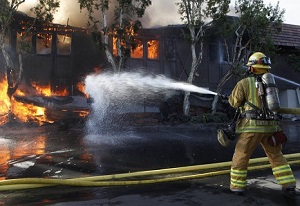 A powerful gas tank truck explosion has shattered a maternity and children's hospital in Mexico City today, with early reports claiming that at least two have been killed and dozens more have been injured.
Mayor Miguel Mancera told local radio station MVS that at least 54 people were injured, including 22 children, with most of the injuries reported to be relatively minor.
In an update from the city's Civil Defence Director, Fausto Lugo, it was revealed that two people had been killed in the incident, with many of the injured being hit by flying glass.
While 37 people had so far been transported to other hospitals, many more are likely still buried under the rubble.
Footage captured by local media showed a column of smoke billowing over the city, with firefighters trying to extinguish the blazes that have broken out as a result.
The worst damage has reportedly been sustained near the hospital's loading dock, with an eye witness revealing that "most worrisome is the collapse of the large part of the hospital".
In a day that brought very positive news regarding cancer research, this is extremely saddening. Our thoughts and prayers are with those involved in this shocking accident.