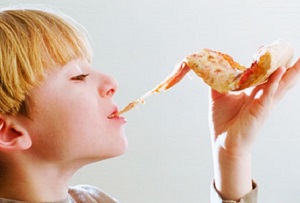 While no parent will admit that a salt- and calorie-laden pizza is their first choice when they want to give their children a nutritious meal, new research has served up an important reminder on the nutritional health risks pizza carries.
Just weeks after shocking research was released in Ireland regarding children and heart disease, researchers in the States have cautioned parents to curb their kids' intake of the tasty food.
According to the new study, on any given day, about 20 percent of children and teens in the US consume pizza, and the effects on their health are quite shocking.
Indeed, the study found that on the days when these children ate pizza, they ended up consuming more saturated fat, more and calories – almost three times more calories, to be precise – than on any other day of the week.
Many more parents have been making the effort to serve up healthier versions to their children, which study co-author Lisa Powel says is a realistic and reasonable way to tackle the problem.
"Given that pizza remains a highly prevalent part of children's diet, we need to make 'healthy' pizza the norm…Make it at home, instead of ordering out where you don't have control over how it's made," said Powel.
Choosing healthier toppings, a wholegrain base and less cheese can make a big difference, she says.
This is certainly something to consider as we face the daily struggle of getting our kids to eat healthily. Here are some more tips that may be of help and interest.