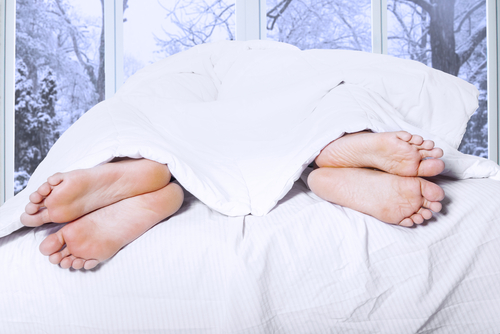 Women's magazine Cosmopolitan is adept at giving men and women tips that will ensure the most pleasurable bedroom time - but sometimes their positions can leave you scratching your head about how they could possibly be good for you, if we are being honest.
With Valentine's Day just around the corner, sexy time with your other half is most certainly on the agenda, although we're not sure if we'll be trying any of Cosmo's Valentine's sex tips...
"Instead of cooking, sit on a safe table or countertop totally naked. Hand your partner a bottle of chocolate sauce. Anything they get on your body, they have to lick off."
Just be prepared for questions the next day from your kids who are curious about where all the chocolate sauce is gone...
"Reenact the rain storm in the Most Romantic Movie Of Our Time with some shower foreplay. Then, still wet, have him lift you so you're straddling his hips and penetrate you, pushing your back against the wall.
Unless your man is super strong, this is just going to end up with you having your back uncomfortably squashed against the bathroom tiles. No doubt you'll get distracted by the peeling paint in the corner...that's if you don't slip and break a bone.
"While having sex in a spooning position, give him easy access to your clitoris by lifting your top leg and putting it back over his legs. Have him finger your clit while he penetrates you from behind."
Yes, because we all have the agility of a young wiry gymnast who can put one leg behind their head with no problem.
"Stand against the wall, facing it, with your arms spread-eagle and your legs together. Have him penetrate you from behind, holding your hands for extra intimacy. You're coming flying, Jack!"
Squishing your face up against the wall is a sacrifice that you are going to have to make.
"Want to feel super close to your partner (and not get anyone upset about reciprocation)? Lie in a sideways 69 position, with your knees bent at a 90-degree angle and have your partner rest his head on your lower thigh, performing oral sex on you, while you give him a blow job. Now you are one."
Because staring into each other's eyes is not going to help you feel connected or at one with each other. No looking at the other end will...
"Kneel on all fours, like a teddy bear tipped on its front. Have him penetrate you from behind, kneeling, while spanking you to your liking."
If you manage to do this without getting any carpet burns, we salute you.
"You've heard of Better Than Sex cake. This position is better than any chocolate he could've possibly gotten you. Lie back on the edge of the bed with your legs up in a V-shape. Have him penetrate you while using a small bullet vibrator on your clitoris. He even has one hand free for nipple stimulation. This one's all about you."
Better than chocolate? Never.