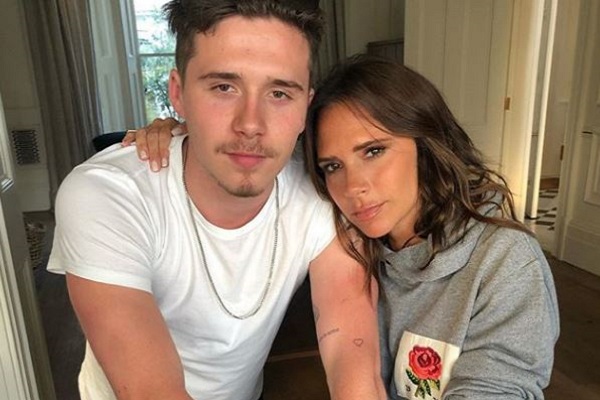 Victoria Beckham is often critiqued for her serious disposition, with many people complaining because the fashion designer 'never smiles', however, the mum-of-four has proved that she certainly has a sense of humour with her latest Instagram post.
The mum posed alongside her eldest son Brooklyn in the stunning snap which was taken at their London home.
The photo may look completely normal, that is until you read the witty caption that goes along with it.
Victoria couldn't help but tease Brooklyn over his facial hair. She wrote: "Is that a moustache ur trying to grow @brooklynbeckham x kisses from us both x VB"
Fans couldn't help but comment on how grown up Brooklyn looked.
"When your baby starts looking like a man, all of the Mama feels!" one wrote.
Many fans couldn't get over the resemblance between the 19-year-old and his dad: "He is just looking more and more like his daddy when he was young too."
Another agreed: "Wow! He grew up fast one day our kids are little babies and next they're grown, men."

One said: "He is ridiculous amounts of David."
We're sure Victoria was thrilled to have Brooklyn back at home in London. The teenager now lives in New York, where he is studying photography at Parsons School of Design.
Victoria admitted that she struggled massively when Brooklyn first moved over to New York. She opened up about his big move in an interview with YouTubers Pixiwoo: "I'm still crying. Brooklyn's moved to New York. He's 18, and I haven't stopped crying. I miss him so much – so much."