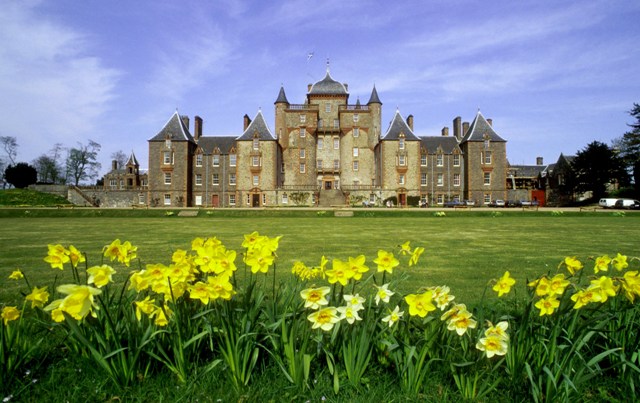 If you are looking for something different to do with the family over Easter, we would highly recommend a trip to Scotland with the family. Ryanair are currently doing really great deals to Scotland and it's a fantastic family destination with lots of great activities over Easter.
Edinburgh, April 8th & 9th
Visit Edinburgh and step back in time at the Georgian House. The 5-story Georgian town house is located in the heart of Edinburgh's New Town and they are hosting a Cadbury Easter egg trail. Visitors can search among the copper pots in the kitchen, tea sets in the Parlour or glassware in the Dining Room to find the hidden eggs.
Click here
to find out more
Aberdeenshire, April 6th – 9th
From April 6th – 9th Castle Fraser Garden and Estate, Inverurie, Aberdeenshire, will also be hosting the Cadbury Easter Egg Hunt. Visitors can follow the trail, collect the clues, solve the puzzle and win a Cadbury Eater egg. There'll be some extra fun on Sunday and Monday with face painters and lots of games to keep the kids entertained.
Isle of Arran, April 5th – 8th
On Thursday April 5th, Brodick Castle and Country Park, on the Isle of Arran, will host the 'Real East Bunny Walk'. This is a spring dawn walk through the gardens where you will be tracking down the mad Easter hares. On Sunday April 8th visitors can follow the Easter egg trail, collect clues and win a fabulous Cadbury Easter Egg.
Glasgow, April 6th – 9th
The Glasgow Science Centre is holding a weekend full of fun with an 'Animal Athletes' sporting theme. Find out how you compare to an animal in terms of balance, observation, strength and aim, or take part in more traditional sporting events like egg and spoon races or a giant egg hunt.
Scottish Borders, April 8th
Traquair House hosts its annual Eastereggstravaganza. Hunt for eggs in a maze, or children can take part in other activities and workshops. There are thousands of eggs to be found along with lots of other Easter prizes. The 1745 Cottage Restaurant will be open for light lunch and afternoon tea so families can refuel after all the fun. There are also wonderful woodlands and grounds that would make for a lovely family walk.
Click here
for more information.
Argyll, April 1st – 15th
Inverawe Smokehouses is running an Easter Egg Hunt where kids of all ages can explore the great outdoors while hunting down some delicious treats. The Inverawe Smokehouse is set within a beautiful nature trail and you can check out their smokery exhibition, as well as enjoy their picnic area and tearoom.
Click here
to learn more.
Orkney, April 7th – 9th
The Dutch Tall Ship Gulden Leeuw is returning to Orkney over Easter, offering six, three hour day and evening sails from Stromness in Orkney. The trips include live music from local bands, a buffet meal and complimentary drinks.
Click here
to learn more.
Glenfinnano, Harry Potter Express
Harry Potter fans will love the Jacobite steam train at the village of Glenfinnano, which follows in the wizard's footsteps. West Coast Railways, operators of 'The Jacobite', provide steam engine and carriages for the 'Hogwarts Express as seen in the films. The route was also partly featured in the films at the Glenfinnan Viaduct, west of Fort William.