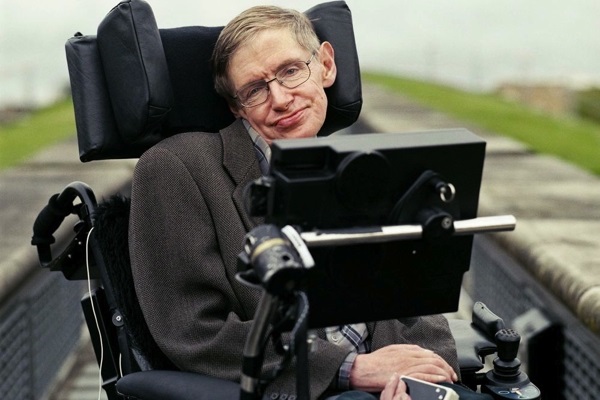 The iconic theoretical physicist and cosmologist Stephen Hawking has died at the age of 76.
His three children confirmed the devastating news in a statement this morning:
"We are deeply saddened that our beloved father passed away today. He was a great scientist and an extraordinary man whose work and legacy will live on for many years.

"His courage and persistence with his brilliance and humour inspired people across the world. He once said, 'It would not be much of a universe if it wasn't home to the people you love.' We will miss him forever."
Professor Stephen Hawking was given two years to live in 1963.
Today he passed away after 55, a 2750% increase.
"Look up at the stars and not down at your feet." pic.twitter.com/c5Ng6zceuk

— ┼ (@MelanchoIicMind) March 14, 2018
His children- Tim, Lucy and Robert- added that their dad passed away peacefully at their family home in Cambridge earlier this morning.

At the age of 22, the world-renowned physicist was diagnosed with a rare type of motor neurone called ALS disease, he was given mere years to live.
However, he went on to achieve remarkable success, with his 1988 book A Brief History of Time selling millions of copies around the globe.
He had been paralysed since the age of 28, but despite this he continued to work, becoming Lucasian Professor of Mathematics at Cambridge University, a role once held by Isaac Newton.
Reading through my timeline, it's abundantly clear that Stephen Hawking was as much a cultural icon as a scientific one. His forays into pop culture made people care about his research, even if they didn't understand it. If I can do just a little bit of that, I'll have done well.

— Sally Le Page (@sallylepage) March 14, 2018
Best known for his scientific works, including his collaboration with Roger Penrose, which led him to discover that Einstein's General Theory of Relativity implies space and time would have a beginning in the Big Bang and an end in black holes.

The cosmologist also found that black holes should give off radiation and then disappear, this theory is now known as Hawking Radiation.
Tributes have been pouring in for the iconic British scientist.
Geraldine DeRuiter tweeted, "We were on earth at the same time as Stephen Hawking. That's kind of a miraculous thing. We breathed the same air as the man who demystified the stars."
Actor Eddie Redmayne has paid tribute to Stephen Hawking. Eddie played the professor in the 2014 film, The Theory of Everything. pic.twitter.com/bMSAiSDxd4

— BBC Breakfast (@BBCBreakfast) March 14, 2018
"According to an Australian physicist if #stephenhawking wanted to interrupt you he ran over your foot. His brilliance was carried lightly & with humour. I love that," Rae Earl shared.
Neil deGrasse Tyson wrote, "His passing has left an intellectual vacuum in his wake. But it's not empty. Think of it as a kind of vacuum energy permeating the fabric of spacetime that defies measure."
Here is a photo of a young Stephen Hawking (with the canes) in London marching against the war in Vietnam

Rest in power, Stephen Hawking. pic.twitter.com/ksmsFr5Sa8

— Teymour (@Teymour_Ashkan) March 14, 2018
Inventor of the World Wide Web Tim Berners-Lee added, "We have lost a colossal mind and a wonderful spirit. Rest in peace, Stephen Hawking."