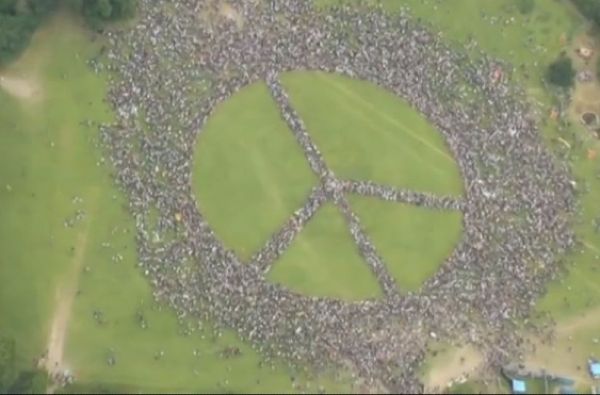 Lately, watching the news has become an upsetting task for most, never knowing when bad news will strike.
None of us can deny that the world can be a scary place, with so much fear being sparked by various attacks in recent years.
However, on occasion we see hope, spread through wonderful people who choose not to live in fear - and spread a positive message of love and peace (these people ate amazing!)
The famous Glastonbury festival is on this weekend, and almost 15,000 attendees have made a statement of peace for the whole world to see.
Thousands of music lovers got together to break the world record for the most amount of people to form a human 'peace-sign'.
Were you at the Human Peace Sign world record attempt at Glastonbury earlier? Go tag yourself over on our FB page! https://t.co/mmDVJbTOCQ pic.twitter.com/py6S6IdmFs

— Stagedoor FM (@StagedoorFM) June 22, 2017
And while breaking a world record is always good fun, these people formed the peace sign to spread an important message.
They're hoping to raise awareness of the call for peace in the world - something we can all agree on.
William Hawk, from Standing Rock in America, addressed the crowd with traditional Native American chanting, reports the Bristol Post.
He said: "We don't need this terror in our world. Peace and love comes about simply by giving peace and love."
What a brilliant way to spread hope and peace in this unpredictable world we live in!