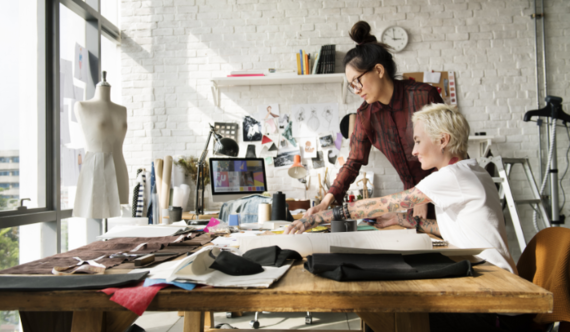 So, you've always had the dream to start your own clothing brand and you're thinking that now is the right time to do it? Make sure that before you start, you have considered every step of the journey that will take you towards launching your own fashion line. This will include everything from how to get your clothing designs made to how to properly and successfully market and sell them in the current economic climate.
Planning is crucial when starting your own business and many entrepreneurs will say that one of the biggest mistakes they see is launching too early, without enough thought and planning, as well as trialling and testing. Avoid the pitfalls and errors often made in business when companies rush to launch and consider these top aspects of starting your own clothing line before you do anything else.
What is Your Niche?
The clothing industry is saturated. This doesn't mean that there isn't room for you, however, it does mean that you need a niche for your clothing business and you need to make sure that your USP (unique selling point) is answering a question or need of your desired target customer.
Have you really done your research into your product area? Have you researched into your target customer and discovered more about them in depth? How they like to shop, what they search for, what they feel is missing that they need? This all needs to be considered if you want to create a clothing brand that will catch their attention.
Competition Is Crucial
When starting your own fashion line, it is crucial to be on top of your direct competition. This comes down to conducting your own research and finding out exactly how they work and what they plan to do next, as well as staying up to date with their movements by simple things, such as joining their mailing list and receiving their daily updates.
Keeping a constant eye on the competition allows you to ensure that your offering is better than anything else on the market. Pay attention to their price point, marketing channels, product mix and e-commerce strategies and ensure you create this competition review before you even begin starting your own business, keeping it up to date as you move forward.
Funding
Paying for your business set up is going to be a key consideration before you begin. From start to finish, you need to consider where your costs will lie and how you plan to budget and pay for them.
Consider that there will be costs at every stage of business, including:
Paying for tech packs to be created for factories if you can't do this yourself.
Costs of all materials involved in the creation of your designs, such as fabric, trims, labelling and packaging.
Manufacturing costs, including pattern and size grading work, plus finishes.
Shipping costs from your factory to your distribution centre.
Website and marketing costs, which will vary hugely depending on your own ability and how much of the work you plan to do for yourself and how much you need to outsource.
How to Find the Right Suppliers for Your Brand
Although you might have all the designs and even be able to make your clothing on a small scale, you will eventually need to team with suppliers to help turn your business into a reality and that will include garment manufacturers. The online platform Sewport helps to introduce smaller designers and entrepreneurs to
clothing manufacturers
to help bring your products to life.
By imputing your job requirements and specifications, Sewport connects you with a list of fashion manufacturers, who you can then discuss your project with and select the right team for your brand.
You'll need to consider the types of suppliers you'll be looking for on Sewport. From graphic designers, helping to create your imagery to cut and sew factories and clothing manufacturers for small orders, you can connect with the right people to scale your business into a professional fashion label.
Marketing
Don't make the mistake of leaving your marketing as an afterthought for when your products are made and ready to sell. Without great marketing, nobody will be able to find your site and buy your clothing, so it's a crucial aspect to consider right from the beginning of the process.
From the content on your website to Facebook and Instagram advertising, who is going to do your marketing and advertising? Will this be a part of your budget or will you do it all yourself and simply dedicate time budget here? If you plan to commit to the marketing of the brand yourself, do you have in-depth knowledge or do you plan to upskill beforehand? You'll need to factor this into your budget and timeline at the beginning of your planning process.
If you are not familiar with the different types of marketing, now is the time to learn. There are both unpaid and paid types of marketing you can do for your business, both of which are incredibly important so you need to consider how you plan to tackle each one. These include but are not limited to:
Unpaid (Free except for time spent)
Social media
Blogging on your website
Email marketing
Paid
Google Adwords
Social media paid advertising
Influencer marketing
Traditional print advertising
Remarketing
If there are any marketing strategies here that you don't recognise, you'll need to correct that immediately.
E-commerce
Without having a huge flagship store on Oxford Street, it's pretty hard to survive in this day and age without a website. It's also the best way to launch a new fashion brand as you can immediately start to advertise an e-commerce site and get people who don't know anything about your label looking at your clothes.
You'll need to consider how much of this you can take on yourself and how much you'll need to outsource to a professional. This will obviously also affect your budget. As well as budget, take your time considering how you want the site to look. This will be your brand's introduction to the world, so it needs to communicate the essence of your brand's ethos and immediately tell the story of your clothing.
When it comes to launching your own clothing brand, be prepared for a slow start. You'll need to consider every single one of these aspects in minute detail, which will require intense planning and dedication to your label. Perseverance pays off, but consider the fact that you might not create a wage for yourself at the beginning of your business and be prepared to work long hours for little reward if you want to build something successful in the long term.