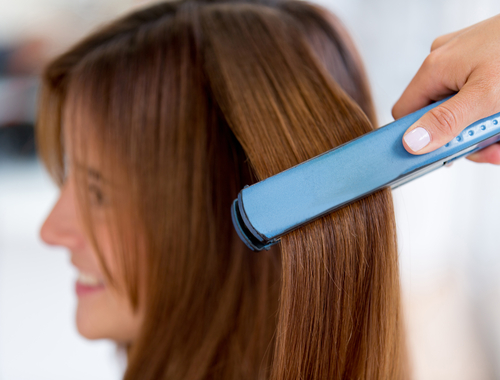 Straightening your hair is a great way to ensure your tresses look neat and tidy but, unfortunately, doing it too often can leave your hair looking a little dry and frizzled.
To help you keep your locks looking gorgeous and healthy, there are a few things you should do.
Shampoo and condition
Start by using the right shampoo and conditioner when you are washing your hair. Go for products that are specially made for dry, damaged hair that will leave you with sleek locks.
Use a little oil
To give your hair a silky shine rub a little hair oil in your hands and run it through from root to tip using your fingers. Depending on which oil you use, you can control frizzy hair and prevent split ends.
Dry your hair
Before you put your straightener anywhere near hair, make sure it is bone dry. And remember to spritz on a little heat protection spray before drying or straightening.
Don't have it too hot
Try to keep your styling tool at a low temperature that will still straighten your hair. However, not all tools have a temperature adjustment facility so try to reduce how often you pull it through your hair.
Don't overdo it
The last thing you want to do is run the styling tool through your hair too many times. Twice should be more than enough to have straight, easy to style hair.