All mums have something in common: we would do ANYTHING- and I mean anything- for our little ones. From big sacrifices to little changes, the life of a momma centres around the wellbeing of her family. This means we are always on the lookout for ways to keep them healthy- especially at this time of year. One way to do this is by ensuring your child is getting enough vitamin B12.
Vitamin B12 plays some essential roles when it comes to the health of your child. This clever vitamin forms red blood cells and turns the food they eat into energy, making it important for the central nervous system. We also need vitamin B12 to form DNA (1) and RNA, make new cells and for the normal function of the immune system. Your child's growing body depends on their intake of vitamin B12 and
research suggests
that a lack of it can contribute to poor growth and development.
The human body can do some pretty amazing things. However, making vitamin B12 is not one of them. You and your family obtain this important substance from animal-based foods. The best sources are clams and beef liver. Fish, meat, poultry, shellfish, eggs, milk and dairy will also supply vitamin B12 and it can be added to some fortified foods such as cereals. But getting these foods into a little tummy can be tough, and even if you can - well done mama- vitamin B12 is not easily absorbed. This also means that families on veggie or vegan diets must make an extra effort to seek out this vital vit to keep their little ones healthy.
Supplements are the best way to ensure that your kiddos are getting what they need.
Haliborange Multivitamin Softies
are the perfect choice because they contain just the right amount of vitamin B12 and taste great- so making sure they get their recommended dose, won't be a battle. These must also be taken daily, as the body doesn't store vitamin B12 for a long time.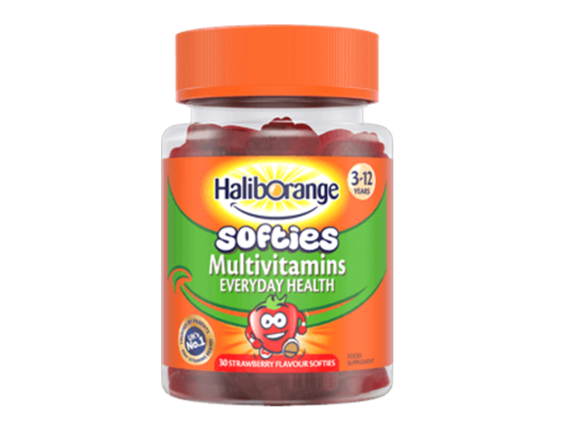 A lack of Vitamin B12 or malabsorption can cause deficiencies. Your child's little stomach must first separate vitamin B12 from its attached protein before it can be absorbed, and this can be difficult. In children, a vitamin B12 deficiency will present with vague symptoms that can be hard to pinpoint like developmental delays, irritability, lack of appetite, anaemia and weakness.
So how much vitamin B12 should my child be getting?
The average recommended amounts, measured in micrograms (mcg), vary by age: (3)
· Babies up to age 6 months: 0.4 mcg
· Babies age 7-12 months: 0.5 mcg
· Children age 1-3 years: 0.9 mcg
· Children age 4-8 years: 1.2 mcg
· Children age 9-13 years: 1.8 mcg
· Teenagers age 14-18: 2.4 mcg
To make sure your kids get their recommended intake, opt for Haliborange Multivitamin Softies which contain 2.5 mcg of vitamin B12. Haliborange Multivitamin Softies are suitable for kids 3-12 years making them ideal for your family's vitamin B12 needs!