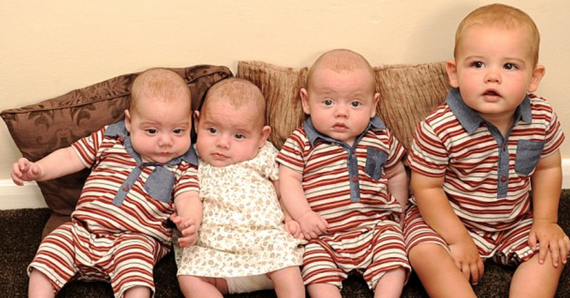 This is a truly remarkable story.
Sarah Ward has now become a mum to four children under one after she gave birth to triplets when her son, Freddie, was just nine months old.
The busy mum and her partner, Ben, were amazed when Sarah found out she was expecting again when Freddie was only 8 weeks old – and doubly amazed to find out it was triplets: "When she said triplets I nearly fell off the bed in shock. Neither of us could speak as she turned the screen to us and pointed out three little wriggling shapes. I just started crying when I realised they would be born before Freddie was one."
Sarah spoke of her shock to find out she would be having triplets so soon after giving birth to Freddie: "I started shaking. I had barely recovered from having Freddie. I was still wearing maternity clothing. I was wondering how on earth I was going to cope."
As it was a high risk pregnancy, the couple were offered a termination, but decided they wanted to take that risk, with a happy ending.
The proud mum counts her blessings, despite the shock: "I'm so proud. I once thought I couldn't have kids and then I got the perfect family in less than a year."
The couple now say they go though 175 nappies a week, not to mention 80 bottles of milk for adorable triplets, Daisy, Stanley and Reggie.