It is widely rumoured that Cleopatra used 24K gold in her beauty routine to maintain her youthful, luminous complexion and still today, this precious metal is renowned for giving the gold-standard in skincare. Gold acts as a brightener on the skin and is highly regarded its ability to reduce inflammation, boost collagen, target wrinkle repair and give that all-important radiant 'lit from within' golden glow. It also makes skincare a little more luxe. As the leading skincare brand at M&S, PRAI Beauty now proudly launches its best-selling facial line from the US; The 24K Gold Collection.
The range includes an impressive line-up of four beauty-boosting, anti-inflammatory products, this collection is a must-try for women targeting fine lines and wrinkles.
PRAI 24K Gold Wrinkle Repair Creme
The hero within the collection and the first weapon within your golden armour is the buttery, hydrating 24K Gold Wrinkle Repair Creme with hyaluronic acid. This powerful all-rounder gives skin a smooth, supple appearance and a beautiful glow. 24k gold helps to fight free radicals and environmental aggressors to maintain healthy collagen. It also includes SYN-COLL™ which is said to be superior in smoothing the skin and targeting fine lines and wrinkles. The potent ingredient NULASTIC Silk™ helps to build the skin's structure and release key nutrients. RRP €42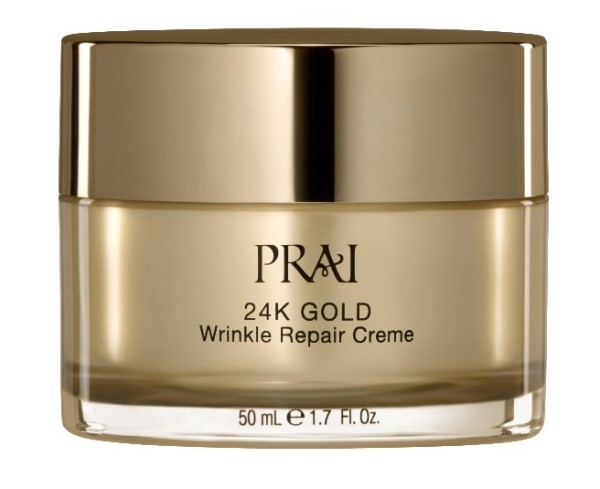 PRAI 24K Gold Precious Oil Drops
One of the best-sellers in the collection is the 24K Gold Precious Oil Drops with seven botanical oils and Vitamin E which is luxurious to use and clinically proven to hydrate skin and help reduce wrinkles. The fast absorbing drops infuse the skin with long-lasting moisture and hydration, whilst restoring suppleness for a glowing complexion. Chamomile softens and soothes the skin; avocado oil naturally moisturises and the powerful 24K gold helps maintain the health of your skin. RRP €42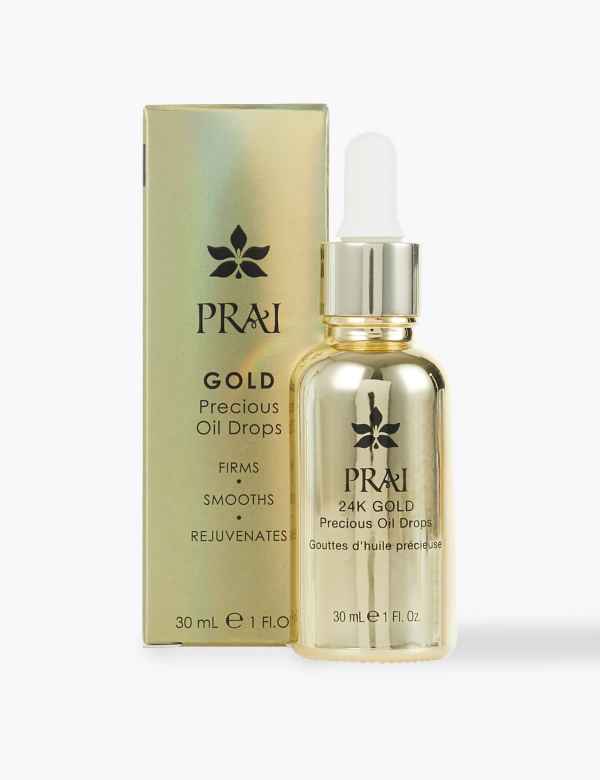 PRAI 24K Gold Caviar Wrinkle Repair Serum
Next up is the 24K Gold Caviar Wrinkle Repair Serum with Hyaluronic Acid and a form of Vitamin C that jump starts the rejuvenation process and supercharges skin's luminosity. Along with 24K gold, this serum is packed full of wrinkle fighting peptides like LineFactor™, which is derived from hibiscus seeds to help the skin's rejuvenation process. Pea and bamboo extracts are included to increase natural exfoliation. As well as reducing discolouration and wrinkles, this serum is proven to help increase skin's elasticity by an impressive 61 percent. RRP €46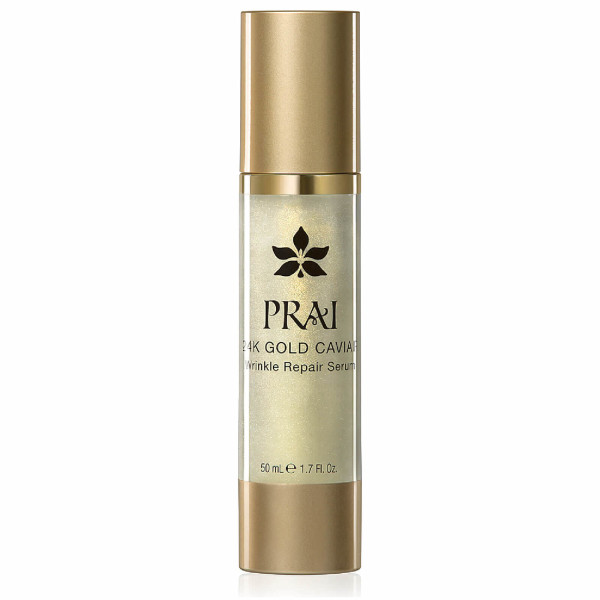 PRAI 24K Gold Concentrate Retinol+
And finally, for bedtime, the 24K Gold Concentrate Retinol+ is a supercharged bedtime treatment that dramatically transforms skin overnight. It has a powerful (yet gentle) formulation that aids cellular renewal and turnover, boosts collagen and elasticity while protecting the skin with a moisture barrier. Coupled with Hyaluronic Acid and 24K gold, the encapsulated Retinol works in harmony to diminish the look of wrinkles and give skin a healthier, brighter glow come morning. RRP €46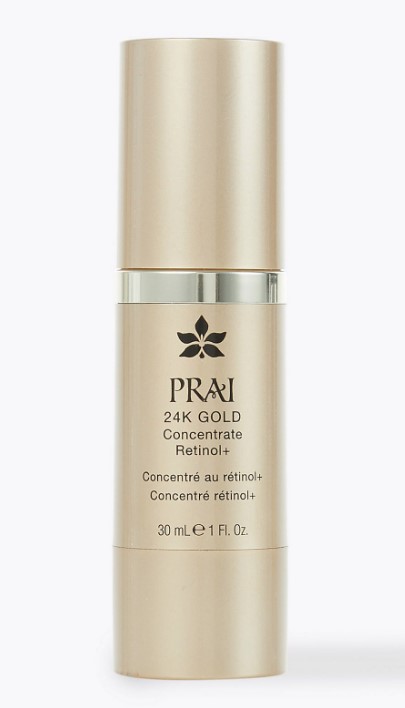 The full range is available now nationwide in Marks & Spencer.