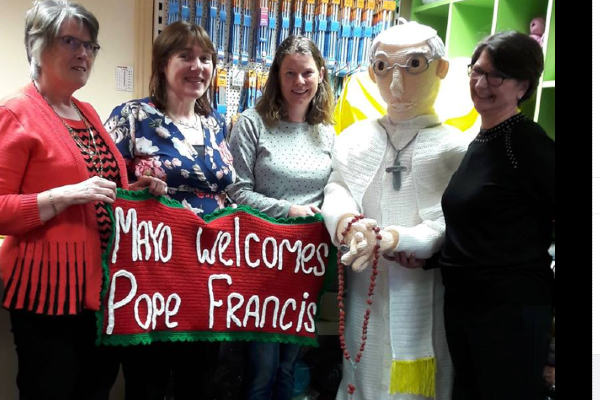 These women have thought of a fantastic way to honour Pope Francis and raise money for charity simultaneously.
Women at Stitch after Stitch, Wool & Fabric Shop have creatively dedicated themselves to a special project.
Teresa Hughes, Jacintha McDonald, Maire Ní Fhearraigh and Helen Burke have created a woolly pope in honour of his arrival.
The project took over 80 hours of concentration, crocheting, and hard work.
The group of four have been meeting up every Thursday at the shop in Ballyvary to slowly but surely add more and more yarn to their plush pontiff.
The newly made pope is the spitting image of Pope Francis, dressed in a white cassock and topped with a matching zucchetto.
To welcome Pope Francis upon his arrival, the crocheted creation has been placed in the arrivals hall at Knock airport, adorned with a pectoral cross and rosary beads in hand.
Tourists love the life-sized pope and have been taking photos with him alongside a handmade sign reading 'Mayo welcomes Pope Francis'.
But the four women who created the pontiff have bigger plans than just presenting him as a novelty.
They are using their creation's local fame to raise money for charity.
Helen announced: "We are hoping to raise money for charity, the poor of the third world and research into Neurological Conditions, including Chronic New Daily Persistent Headache Syndrome, from which I suffer from.
"Pope Francis will be on view in the shop from Monday 20th August until the end of September. You are all welcome to come down to the shop and have Afternoon tea and cake with us on Tuesday 21st August from 1:00pm to 4.30pm. All donations will go to the above charities."
So, if anyone would like to see Pope Francis but could not get tickets, here is your chance to see his life-size image.
Head down to Stitch after Stitch, Wool & Fabric Shop in Ballyvary for a special papal viewing, a spot of tea, and a chance to help those in need.