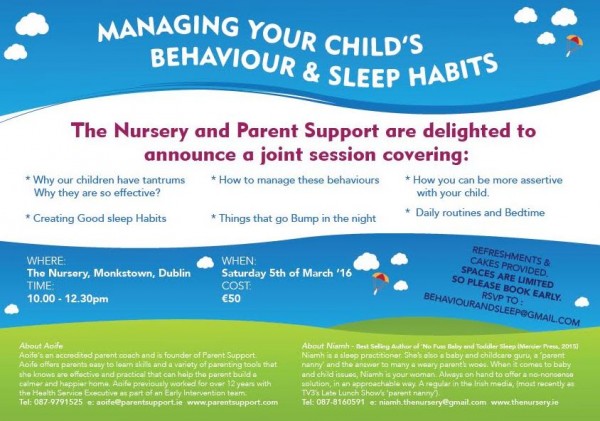 Are you wondering if your little ones' behaviour is just a normal part of growing up? Is your 18-month-old turning into a threenager right before your eyes? Has your usually easy going bedtime, become a bit challenging? Or perhaps, you want to nip things in the bud before they escalate?
Then this is the workshop for you.
Taking place on Saturday, 5th March, sleep expert and founder of Parent Support Aoife Lee, along with author Niamh O'Reilly, will be hosting a workshop to help you manage your child's behaviour and sleep habits.
With hands on and practical advice from Aoife and Niamh, you can arm yourselves with helpful tools in the event of an emergency!
Time and date:
Saturday, 5th March at 10:00am – 12:30pm
Where:
The Nursery,
Monkstown,
Co. Dublin
Price:
€50 – refreshments are included.
To book your place RSVP to behaviourandsleep[at]gmail.com
SHARE with someone who is looking for a little expert help.